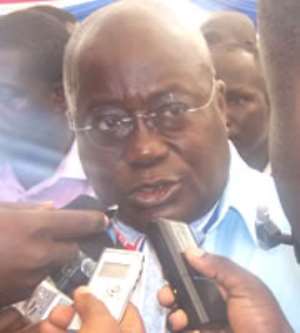 Whether you like or not, we shall go to the Airport welcome Nana anytime he returns from an overseas trip.
The tirade of John Kumah and the disparaging statements by Koku Anyidoho and Mahama Ayariga against Nana Addo Dankwa Akufo Addo only tend to arouse our sympathy for him. Those condemning Nana for the spontaneous show of love and affection when he returned from trip abroad are only trying to display a sense of inferiority. Their action only helps to excite our admiration for Nana Akufo Addo. All that Ayiraga, Kuma, Kwasi Amankwa and others are saying is a mark of jealously which makes Nana Addo more admirable.
A character whose personality easily attracts attention and directs the course of events in a given environment is in fact a great man. And that person no matter what the pundits say about him is Nana Addo Dankwa Akufo Addo.
Infact, Nana Addo's greatness is realized in the way Ghanaians and party men and women gravitate and behave towards him. The ordinary people are so much impressed by Nana's personality that they take it upon themselves to honour him by coming out in great numbers to welcome him from his trip abroad. These adversaries reason that if Nana could be deprived of such honours the people are willing to accord him, then their fears of the peak which such an honour will take Nana to will be erased.
The name of Nana Addo Dankwa Akufo Addo is becoming more popular in the mouths of people. And Ayariga, Nana Kwasi Amankwa, John Kumah and others like Flavius in Julius Caesar feel that "these growing feathers plucked from Caesar's wing will make him fly an ordinary pitch". Their complaints against Nana can be easily treated with contempt since it smacks of jealousy and hatred. That Nana's name has become a sort of food to be chewed by almost everybody at all times helps to unfold his greatness.
Let it be said loud and clear that the party hierarchy has no hand in the welcome reception accorded our 2008 Presidential candidate. If the party had been involved, it would have been "heavier" and "suicidal".
Now, let those making unnecessary noise answer this question. If something is good or if you admire somebody, is there anything wrong if you express it in diverse ways? Have the people committed any crime to go and welcome a person who is universally acclaimed as a defender of the right of the oppressed? That of Nana's international stature is not in doubt.
Nana Addo Dankwa Akufo-Addo represents the hopes and aspirations of Ghanaians, irrespective of party affiliation that are yearning for all inclusive government, devoid of acrimony and vindictiveness, a government which will take firm and concrete decisions affecting the generality of the people, only after it has taken into considerations the inputs of the ordinary citizenry. What will be will be. Nana believes in the adage that we cannot postpone till tomorrow what we can do for the country today. He does not wait for something to crop up before taking action. He turns them himself. One of his philosophies is that "if you take too long to cross the river, the current will sweep you away".
On Ayariga's innuendos that there is only one President and that Nana by being accorded the "peoples treatment" by the common people was alluding or arrogating to himself the status of a President, I strongly disagree. Ayariga should not dress Nana in borrowed robes as was done to Macbeth. Nana has not acted by word or action that he is the President of this country. But he cannot prevent the people from taking time out of their busy schedule to welcome him home. The whole show was a spontaneous reaction to give rent to people confidence in a man that they hold in very high esteem and also send a strong signal of a determined people resolve to give Nana their endless franchise in the next Presidential Election.
This is not the first time a person from an opposition party has traveled out and is given a rousing welcome at the Airport on his/her return trip. When President Mills, then candidate Mills returned from his South African trip, after his medical treatment, his admirers and party activists went to the Airport and welcomed him home. At that time, the NPP Government did not accuse him of behaving as if he was the President.
Again, when Honourable Alban Bagbin, the then Minority Leader usurped the President position and presented what he referred to as "The True State of the Union Address", the then NPP Government did not accuse him of usurping the position of the President. So you see, Ayariga's accusation is neither here nor there. It was made to give the dog a bad name in order to hang it. Nana's dignified mien and qualities as a matured statesman were exhibited when he refused to comment on the happenings within the country, even though the media prompted him to say something. He said he would only make comments after he had been fully briefed by the Party's executive. This is a mark of a true and noble statesman. Nana Addo Dankwa Akufo-Addo has indeed arrived.
Indeed, some people are completely distraught at the rate at which the "draft Nana for the NPP Presidential Slot Campaign" is gathering momentum. At the moment, Nana Addo Dankwa Akufo-Addo has become the most potent political force in the NPP.
Nana's cardinal mission or Principle in politics is to "deliver the dividends of democracy, promote peaceful accommodation and democratic values and fully appreciate the yearnings of the people." He is such a person I believe, if he is elected President and I feel so strongly about an issue, I can walk straight to his office, look him straight in the eye, eyeball to eyeball and say, "Mr. President, Sir, I am sorry, this thing is not right" and he will listen. I know people will doubt it, but I saying this with emphasis that my first encounter with him had to do with a story I was doing. He had no prior notice of my visit. I went to his office and asked to see him, and pronto, I was ushered into his presence. Inspite of his tight schedule, he took time off to listen to me and we discussed many issues pertaining to moving this nation forward. I ended up spending over twenty minutes with him.
I have some few comments on John Kumah's diatribe against the spontaneous welcome reception for Nana Addo Dankwa Akufo-Addo. In the first place, I want to say it on authority that the National Executives of the party had no hand in the planning/organization of the reception. Checks from the Executives have confirmed that. The only lonely voice in the wilderness has come from the immediate past National Chairman of the party, Mr. Haruna Esseku, who alleges that his sources told him an announcement on air for party members to go to the airport to welcome the immediate past flag-bearer, was made by the National Organizer, Lord Commey. But the National Executive has distanced itself from any such announcement. This therefore shows that no money from the party's coffers was spent on the reception.
However, it must be stated that, nothing prevents Lord Commey, even though an executive member of the party, from canvassing for party members to go to the airport to welcome Nana Akufo-Addo. It is within his constitutional rights to do so, provided he does not drag the national executives into it. He is an individual member of the party and could have his preference and if indeed, he caused any such announcement to be made, he did so in his individual capacity. We should also not lose sight of the fact that if the National Executive had met and deliberated on the matter and had come to the conclusion that such a reception for Nana Addo Dankwa would enhance the fortunes of the NPP, there would have been nothing wrong with the idea.
Mr. John Kumah alleged that the unprecedented and spontaneous welcome reception accorded our immediate flag-bearer had created the impression that Nana still remains the unopposed flag bearer of the party and that it was likely to breed party indiscipline. Don't ordinary citizens like you and I have the right to mobilize others with same beliefs to go and give Nana a fitting reception? The people went there on their own, for nobody forced them to do so. It is likely some wards, districts and constituencies might have organized their members to come to the airport. I see nothing wrong with that. Members of the New Patriotic Party trooped en masse to welcome their fiend, mentor and hero whom they believe could help revive the fortunes of the party.
It must be stated with emphasis that Nana Addo Dankwa Akufo-Addo dis and has not presented himself as leader of the party; neither did he portray himself as President of this country. But the people see in him a combination of the noble qualities in Mikhail Gorbachev of Glasnost and Perestroika fame imbued with the selfless and dedicated services of Nelson Mandela. You may disagree with me but this is how those of us in the elephant fraternity view our immediate flag-bearer, Nana Addo Dankwa Akufo-Addo.
You see, after the electoral defeat we suffered during the December, 2008 Elections, NPP supporters, both within and outside the country felt disillusioned, sick and disconsolate. Some went into political coma. We therefore needed a potent medicine to "resurrect" us or give us a new lease of life. And what better and potent medicine to revive us than the announcement that Nana was returning from his trip abroad? The people were energized and new blood flew into their systems so much so that the lame were healed of their disability and joined their colleagues to trot to the place. Come and see! The atmosphere was charged and electrified. You should have been there to see things for yourself. The crowd was like a horde of locust on its yearly migration. The crowd showed their love for the party being represented on that occasion by Nana. The unique feature was the atmosphere of oneness as could be discerned from the smiles on the faces of the people. It was infectious and every member of the party left the airport with the feeling of satisfaction that they had given vent to their pent-up feelings. Nana's homecoming has re-invigorated party men and women and given us a new lease of life.
I would also like to use this medium to debunk the notion that such a spontaneous reaction to Nana Akufo-Addo's Home-coming is capable of breeding disunity among the rank and file of the Party. Far from that for it has rather helped to cement the bond of friendship and unity amonst party faithful
I would like to recall what Mr. Kwabena Sarpong a top NPP activist said on Net 2 TV when the issue of Nana's homecoming reception was being discussed.. He said after the 1996 elections Presidential Election which the NPP lost, some areas in Accra or some other place was flooded and part of the area was cut off from the rest. They organized a visit to the affected area with Ex President Kufuor in the lead followed by other top arty functionaries. They waded through the flood to get to the area which had been cut off from the rest of the city. At that time, the NPP had no flag-bearer but Kufuor served as the rallying point for the party.
Once in a while, History has a way of bringing out a parson of immense pedigree to steer the affairs of a nation in time of need. When the moment arrives, we need nobody to tell us that this is the person for a gold fish does not have any hiding place.
The time has come for all members of the Great Danquah-Busia-Dombo Tradition to eschew all rancour, bitterness and divisive tendencies and put the overall interest of the party first. I know that some members of the party as well. I am making for all lovers and followers of the New Patriotic Party such political ambitions on hold, at least for now, and unite behind Nana Addo Dankwa Akufo-Addo in our titanic battle of clinching the title belt from the National Democratic Congress.
Nana Addo Dankwa Akufo Addo is the beautiful bride to be wooed. He is the surgeon Ghanaians need to exorcise the spirit of decadence from the Society. He is the one to help us attain the Commanding Heights of the Economy, for the Cedi will not "appreciate the dollar".
Daniel Danquah Damptey
[email protected]
0243715297.