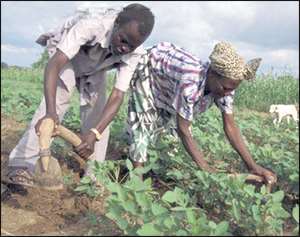 Ghanaian farmers at work Ghana's quest to improve its agricultural sector has been boosted with the provision of a $25 million financing agreement from Standard Bank Plc in collaboration with the Alliance for Green Revolution in Africa (AGRA).
Three other countries, Mozambique, Tanzania and Uganda would also receive $25 million each from the $100 million innovative fund for mostly small-holder farmers in Africa.  Medium sized agriculture businesses previously considered too risky for lending will also benefit from the fund which will be given as loans.
The Millennium Development Authority (MiDA) also pledged $2 million support to the programme in Ghana which will be given to the farmers as loans at a very low interest rate.
A memorandum of understanding governing the partnership was signed on Tuesday by Jacko Maree, Chief Executive Officer of Standard Bank Group, A. Namanga Ngongi, President of AGRA and Soares Nhaca, who is a board member of the Millennium Challenge Account Mozambique and the first country partner of the programme.
Kofi Annan, former UN Secretary General and the board chairman of AGRA and Kwesi Ahwoi, Minister of Food and Agriculture witnessed the event.  
The public-private partnership will seek to open up financing to unleash the potential of African agriculture even as financial crisis maintains lock on global credit.
Speaking at the function, Mr. Maree noted that the goal of the bank was to transform Africa's agricultural sector in partnership with interested organisations. "The large share of agriculture in Africa's Gross Domestic Product (GDP) suggests that strong growth in agriculture is necessary for overall economic growth. There is a need and an opportunity for investment that will develop the middle ground in Africa's agriculture."
 He added that Africa has enormous potential and the continent has to unlock this potential in order to reap the benefits of the natural resources.
On his part, Mr. Annan reiterated Africa's need to be self-sufficient if it wants to grow, hence the need to show seriousness towards agriculture.
"Our action recognizes that the global food crisis is exerting major problems in Africa. Inflation, food shortages, and trade imbalances all pose huge social, economic and political risks. But while credit is frozen worldwide, Africa cannot wait for a thaw."
He added, "Programmes such as this, which increase the productivity of small-holder farmers and help catalyze an African Green Revolution, will ultimately enable Africa to achieve food security and stability, and thus improve the entire global outlook."
Mr. Ahwoi welcomed the financial support to the agric sector, saying the assistance will help grow the GDP's of the respective countries and reduce imports as well.  Agric contributes about 35 percent to Ghana's GDP.
Across sub-Saharan Africa, the agriculture sector generates significant percentages of national incomes but it receives only one percent of total commercial lending. Majority of this money has gone into large-scale agriculture, leaving small-holder farmers with only the change in their pockets to invest in their farms.
By Charles Nixon Yeboah & Tanya Hill