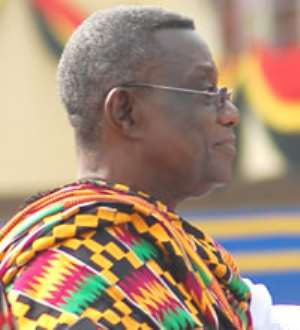 President John Evans Atta Mills has reminded Ghanaians, especially politicians of the various political persuasions, to draw useful lessons from the country's chequered history in order to avoid the repetition of some regrettable mistakes of the past.
He said the frailty and transient nature of human beings made it imperative that politicians concentrated all their energies on issues which promoted national cohesion and progress, instead of engaging in politics of vindictiveness and acrimony which characterised the country's political past and undermined its forward march.
President Mills said this at the pre-burial and memorial service for the late Vice-Admiral E.O. Owusu-Ansah at the Burma Camp in Accra on Wednesday.
The late Vice-Admiral Owusu-Ansah, 67, was appointed the government's representative at the Ministty of Defence when the National Democratic Congress (NDC) assumed the reins of government on January 7, 2009.
The burial service attracted personalities such as former President Jerry John Rawlings, high-ranking government officials and retired officers of the Ghana Armed Forces.
According to President Mills, the repetition of mistakes, especially the grave ones, invariably drew back the economic development of the country in the sense that members of society spent considerable time plotting devious schemes to undermine one another, instead of channelling their energies into productive ventures.

He further explained that dwelling on the past and refusing to focus on the future was counter-productive to the aspirations of the people especially the youth, for which reason it was necessary for politicians to fill the minds of the youth with ideas of unity and togetherness.
He also reminded Ghanaians that the country reached the cross-roads where the people, irrespective of their political persuasions, should, for the sake of the country's future, drop their differences and join forces to improve their material conditions.
President Mills referred to the late Admiral Owusu-Ansah as a man of principles had full of action who denied himself the comforts of life because of his commitment to improve the lot of the people in the country.
He said the ideas that the deceased provided on national security had contributed reasonably to the present stability and orderliness that the country was witnessing.
"We have lost a patriot; the nation has been dealt a severe blow with the passing away of this honest, disciplined and humble person," President Mills said.
Tributes were read on behalf of the Ghana Armed Forces, the Association of Retired Naval Officers and the Ghana Military Academy Intake 8 Association.