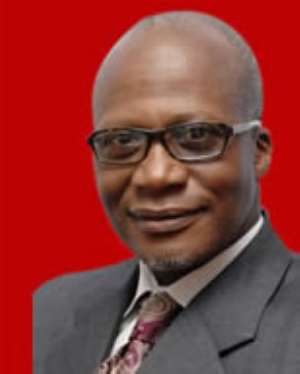 The Independent Presidential candidate for Election 2008, Mr Kwesi Amoafo- Yeboah, has called on managers of the economy to use the challenges inherent in the global economic crisis to restructure the country's economy.
He said efforts must be made to use the challenge as an opportunity to build a resilient economy against future external shocks.
Speaking to the Daily Graphic last Saturday, he advised Ghanaians to change their consumption habits, patronise made in Ghana products, especially local dishes, as a way of building the economic capacity of the country.
For a start, he suggested that just as the government introduced the Friday wear, which was successful, Ghanaians could be encouraged to cultivate the habit of eating a Ghanaian meal once a week.
"Eat a Ghanaian dish once or twice a week. We should eat food grown in Ghana and by so doing we would save scarce money for the nation," he stated.
He said "This global economic crunch is our best opportunity to wean ourselves off the dependency syndrome that has engulfed our economy over the years."
Mr Amoafo- Yeboah said once Ghanaians were able to patronise made in Ghana products, scarce resources saved would be used to support other important social interventions.
He explained that due to the credit crunch, donor partners would not be able to provide needed funds to support the country's economy like they used to because already their economies were in danger.
Remittances from Ghanaians living abroad, he said, would also reduce drastically because most of them have lost their jobs while exports from Ghana to other developed countries would depreciate because such consumers had either lost jobs or were receiving reduced income.