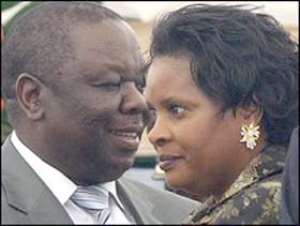 Morgan and Susan Tsvangirai had six children together Thousands of mourners are expected to turn out in Zimbabwe's capital, Harare, for a memorial paying tribute to Susan Tsvangirai, on the eve of her funeral. Prime Minister Morgan Tsvangirai's wife died in a road accident on Friday in which he was injured.
The ceremony is to be held at Glamis Stadium, where Mr Tsvangirai addressed a rally last month after being sworn in as prime minister.
Mr Tsvangirai said it was unlikely the crash involved foul play.
The driver of the truck that hit the couple's car has been charged with culpable homicide.
The lawyer for Chinoona Mwanda, 35, who was bailed on Monday, said his client would plead not guilty and blamed the collision on the poor state of the road.
'Life goes on'
The premier's party, the Movement for Democratic Change (MDC), is urging all Zimbabweans to attend the event, in remembrance of a woman who stood as a pillar of support to her husband for 31 years.
Up to 30,000 are expected to heed the call.
Mrs Tsvangirai is to be buried near the couple's rural home in Buhera, Manicaland, on Wednesday.
In spite of his bereavement, Mr Tsvangirai said on Monday "life had to go on".
The BBC's Peter Biles in Johannesburg says it is a clear indication he intends to resume his duties as prime minister.
In Harare on Monday, thousands of people from the townships walked long distances to the prime minister's home in Strathaven, a western suburb of the capital, to pay their respects to Mrs Tsvangirai.
Many Zimbabweans have been suspicious about her death, because of past acrimony between the prime minister and President Robert Mugabe.
Mr Mugabe and his wife Grace visited Mr Tsvangirai's bedside hours after the crash as he was treated for head and neck injuries at a private clinic in the capital.
The Tsvangirais had been travelling to Buhera when the crash occurred near Beatrice on Friday afternoon.
Police have said the lorry crossed into the lane in which the couple's 4x4 was travelling and side-swiped the vehicle, causing it to roll over three times.
The British foreign ministry said the truck was part of an aid project jointly funded by the US and UK and that the crash appeared to be "a genuine accident".
  Credit: BBC