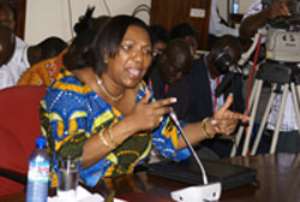 The Chronicle can report on authority that there are well over 1,748 people languishing in the country's prisons, without proper or valid warrants for their continuous incarceration.
Available statistics gathered from the Centre for Human Rights and Civil Liberties (CHURCIL), through its occasional institutional visits to the various prison yards, indicates that as at November 15, 2008, the Nsawam Medium Security prison alone had 1, 224 inmates, who were being held without proper or valid warrants to justify their continuous detention, aside 12 other female prisoners who were being held at the same Nsawam Prison for similar reasons.
The Kumasi Central Prison also had 52 inmates, while the Koforidua local prison had 69.
The Ankaful Prison Annex also had 64 inmates, while the Akuse and Ho Central prisons had 63 and 53 inmates respectively, who are being held under similar conditions.
Both male and female put together, the Sekondi Central Prison by then had 60 inmates, whilst that of Winneba and Tarkwa had 42 and 30 respectively.
The rest are Sunyani Prisons 19, Wa Central Prisons 16, Navrongo 11, Yendi 10, Tamale Central Prisons 12, Kete-Krachi Prisons six, Kpando Local Prisons four, and one at the Obuasi Local Prisons.
The situation has arisen as a result of the inability of prosecutors and court officials to either trace or locate dockets covering the cases involved.
This, is in spite of an earlier ultimatum issued by the then Attorney-General (A-G) and Minister of Justice, Mr. Joe Ghartey, and the immediate-past Inspector General of Police (IGP), Patrick Kwarteng Acheampong, in which the two gave the police prosecutors a 14-day ultimatum on October 22, 2008, to renew the expired warrants of remand prisoners, or face disciplinary action.
This was after CHURCIL, a partner in the Joe Ghartey instituted 'Justice for All Project,' issued a report after undertaking a six months check on prisoners, in which it noted that over 300 remand prisoners were being held at the Nsawam Medium Security Prison, though their warrants had long expired.
At the time, the A-G gave his word that in the case where the prosecutors were unable to take steps to renew the warrants of such prisonsers within the given period, he was going to take steps to ensure that they were released on bail.
In the light of this, the Executive Director of the CHURCIL and legal whiz kid, Kojo Graham, has demanded that the prisoners be set free, since their continued stay in the prisons did not only amount to an illegality, but also constituted a serious breach of their fundamental human rights, as enshrined in the constitution and other international conventions.
In an interview with this reporter, Mr. Graham reiterated his call for the urgent need to set up special courts, across the length and breadth of the country, to handle and dispense the backlog of cases involving remand prisoners, in order not to aggravate the situation at the already choked prisons in the country.