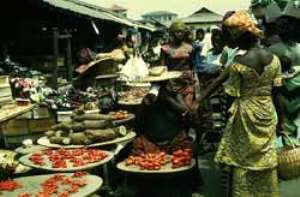 The Support Programme for Enterprise Empowerment and Development (SPEED) Ghana, in collaboration with the Strategic Communications (Stratcom) Africa, a media consultancy company, on Wednesday organized a road show to educate traders at the Madina Market on positive financial behaviour.
The road show, which had already been held in nine out of the 10 regions, was also to encourage the traders on the benefits of financial savings with banks and the need to form community societies that could collectively access micro loans from the banks to expand their businesses.
Stratcom Africa, which facilitated the programme, contracted Abibigromma, a drama group, which also employed the concept of "Theatre for Development" using drama and puppetry shows to send out their messages.
The drama educated the public on the need to develop workable plans for their finances and abstain from loan defaults to enable others to benefit from the various loan schemes offered by the banks.
According to Mr Kwame Asirifi Bonsu, Communications Officer, Stratcom Africa, the program had yielded positive outcomes in most of the regions covered.
He said the positive impact of the road show was evident in the Central, Ashanti and the Eastern regions where an impact assessment was conducted and it was found that patronage of banking services had appreciated compared to previous years.
"This indicates that the awareness has been created and people are now enlightened about the operations of the various banks and their role in helping people to grow their businesses through micro-financing schemes."
Mr Bonsu said the programme had also been organized in areas in the Greater Accra Region, including Ningo Prampram, Akuse, Dodowa, Kpone, Afienya and Ashaiman, saying subsequent shows would be held at Mallam and Dome.
Ms Cynthia Ampadu-Boateng, also a Communications Officer with Stratcom Africa, said the road shows also offered opportunities to the banks to present their products to the public in an a open forum.
She advised the traders to cultivate the habit of saving in order to expand their capital and also enhance their livelihood.