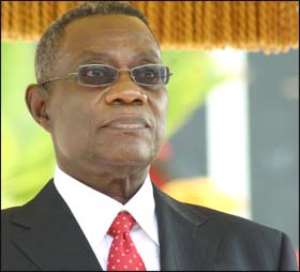 President John Atta Mills Fitch Ratings has revised the outlook on the long-term foreign and local currency Issuer Default Ratings (IDRs) of Ghana from stable to negative.
Furthermore, the agency has affirmed the long-term foreign and local currency and the country's Ceiling at 'B+' and affirmed the Short-term IDR at 'B'.
"The revision of the outlook on Ghana's ratings to negative reflects new data pointing to the fiscal and current account deficits of 15 percent and 24 percent of GDP respectively in 2008 and double-digit inflation.
"The magnitude of these macroeconomic imbalances leaves Ghana poorly placed to navigate and presents Ghana's newly elected National Democratic Congress (NDC) government with some formidable challenges," says Paul Rawkins, Senior Director in Fitch's London-based sovereign rating team.
Fitch believes that the current imbalances could rapidly erode the benefits Ghana has gained from external debt relief.
External shocks have played their part in derailing Ghana's relatively short track record of macroeconomic stability, but fiscal deterioration has been evident since 2006 with fiscal outcomes far in excess of budgeted shortfalls, Mr Rawkins stated.
He said revenues were broadly on target in 2008, but expenditure overran by 24 percent, reflecting higher wages and salaries, increased energy subsidies and pre-election spending.
Public debt rose to an estimated 56 percent of GDP in 2008 from a low of 37 percent in 2006. Fiscal funding was met from a drawdown of the proceeds from a sovereign bond issued in 2007, privatisation receipts and increased domestic debt issuance.
Rising inflation, Mr Rawkins said, has shortened investors' horizons. He said Fitch expects tighter monetary policy to be matched by fiscal retrenchment.
The 2009 budget is due to be announced on Thursday. Nonetheless, Fitch said it will take time to rebuild a track record of fiscal discipline and the 2009 fiscal deficit is unlikely to fall much below eight to nine percent of GDP without real expenditure constraint.
Fitch acknowledges that the recent discovery of oil in Ghana, if properly managed, could enhance sovereign creditworthiness over time.
However, considerable uncertainty surrounds the timing of production start-up - early indications point to late 2010 - and the agency cautions against continued fiscal laxity in anticipation of new oil-related revenues.
In the near term, Ghana is facing tight fiscal financing constraints, exacerbated by the global credit crunch, while a weak balance of payments threatens to put further downward pressure on its currency and international reserves. Stronger fiscal discipline will be essential if Ghana's sovereign creditworthiness is not to be put at greater risk.
Source: Dowjones Business News