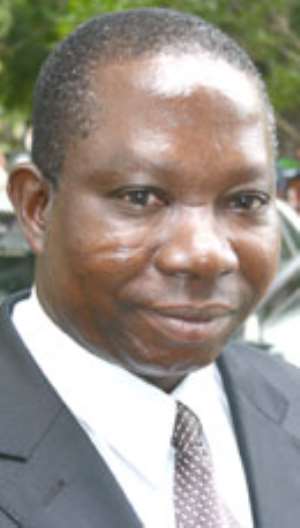 The Ashaiman branch of the National Democratic Congress (NDC) has appealed to President John Evans Atta-Mills to consider giving a ministerial position to the Member of Parliament (MP) for the area, Mr. Alfred Agbesi.
They also appealed to the Appointments Committee, and the founder of the party, ex-President Jerry John Rawlings, to intercede on their behalf, so that the Ashaiman MP could be given a ministerial post.
According to the party, not only would the gesture compensate for the MP's selfless role and contribution towards the victory of the party in the constituency in the 2008 elections, but it would also go a long way to fulfill an electoral promise the President made to them during the electioneering period.
Addressing a press conference at Ashaiman last Thursday, the Secretary of the party, Bawa Ibrahim, disclosed that they believed that the President's inability to appoint their MP was just a matter of oversight, and therefore they were hopeful that he would consider their petition, and grant them their heart's desire.
"Our father, the President, did promise the people of Ashaiman that when he becomes President of Ghana, the people of Ashaiman will laugh, because Hon. Agbesi will be appointed as a minister of state," the Constituency Secretary stated.
He disclosed that the President's promise motivated them well enough to put in their best and work harder to obtain almost 60,000 votes for the party to win power.
"We are desperate and ashamed of the present situation, and therefore we are appealing to His Excellency President Prof. Evans Atta Mills, to do everything possible to honour our Member of Parliament with a ministerial appointment.
"We the people of Ashaiman have always been generous with our patience, and for that matter we do not want to do anything to hurt our dear party.
"We are therefore appealing to the Appointments Committee, and the Former Head of State of the Republic and founder of the NDC, Dr. Dr. J. J. Rawlings, to intercede on our behalf to wash the shame on our faces, because we, your loyal and dedicated servants, know that this is not beyond your powers," he stressed.
Mr. Ibrahim also disclosed that the party should not think of attempting to impose anybody on them, as the Municipal Chief Executive of the area, because they would not take kindly to it.
He indicated that as a party, they would welcome the nomination of any one of the names they have submitted to the party as potential candidates, but would not accept the nomination of anybody outside the names they have submitted.