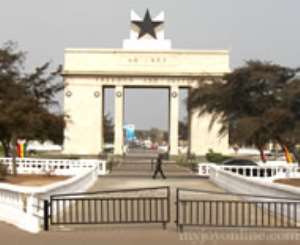 Government has promised better living conditions for ex-servicemen as the country marks the 61st anniversary of the 28th February shooting.
Wreaths were laid at the Freedom Monument, Osu, on Saturday in commemoration of the three ex-servicemen who were gunned down at the Christianborg Crossroads on February 28, 1948, while going to present a petition to the British Colonial Governor, Sir Gerald Creasy, after the colonialists had reneged on their promise to resettle them.
They were Sergeant Adjetey, Corporal Attipoe and Private Odartey Lamptey, all members of the Gold Coast Regiment of the Royal West African Frontier Force that fought alongside the allied forces during the Second World War.
Lt. Gen. Joseph Smith (retd), Minister of Defence, told Joy News the government would soon restructure their retirement package to give them better living conditions.
"[Their] case is very important to us, because of their sacrifices that today we have the liberty that we have to work on our democracy; so we will never forget them.
"They are part of the priorities we are looking out now and we will take every step to make sure that we better their living conditions, pension and everything that will go to make them happy in their old age."
Lt. Gen. Smith conceded that the government is aware of some problems of the ex-servicemen and it is assiduously working around the clock to solve them.
"I personally will be visiting all the legion villages in the country to have a word with them and restructure the entire veteran association," he promised.
Some survivors of the World War II have complained of past and present governments' neglect after 61 years on.
"The ex-serviceman was onetime a hero, he is now a forgotten hero, and we are being badly treated; they must be given sort of assistance, something to live on, not this pittance," an ex-serviceman protested.
Lt. Gen. Joseph Smith, Minister of Defence, laid a wreath on behalf of the government and people of Ghana and Rear Admiral R. S Nuno, Acting Chief of Defence Staff, laid one on behalf of the security services.
The Chairman of the Veterans Association of Ghana, Air Vice Marshal Odartey Barnor laid one on behalf of the veterans, while the Osu Mantse, Nii Nortey Owuo III, laid one on behalf of traditional rulers.
The GNA reports that special prayers were said for the love, the dedication and the service the three soldiers rendered to the country during the colonial era and prayed for peace and stability in Ghana and the world.
Story by Isaac Essel