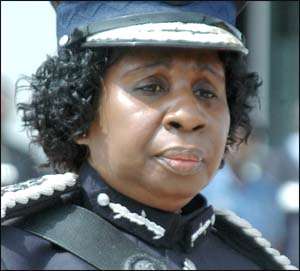 IGP Elizabeth Mills-Robertson TWO MORE POLICEMEN and four civilians have been brought before an Accra Circuit court for their role in a recent theft case involving one Kwaku Duah, a Ghanaian businessman based in Switzerland.
The businessman was said to have been attacked by the accused persons on allegations that he was operating a fraudulent business and in the process robbed him of his money and other valuables.
However, the accused persons, Corporal Lawrence Dennis Quansah, Constable Benjamin Blejumah, Ams Amanor, Peter Kwame Gyasi, Kwasi Tawiah and Bismark Ampofo, pleaded not guilty to two counts of conspiracy to commit crime and robbery.
The others, Lance Corporal Karim Muntari, Constable Ken Duodu Acheampong, Jeffery Kay and two others are currently at large.
Their counsel, Ekow Korsah and Dela Blagodzi pleaded bail for them without success as they were remanded by Justice Mahamadu Iddrisu to re-appear on March 12 so that further investigations could be conducted into the matter.
Counsel, who during the bail application noted that the facts of the case were pregnant with falsehood, stated that their clients were only victims of circumstance as they only followed superior orders which had finally put them in trouble.
P.K. Frimpong, the prosecutor, informed the court that sometime last year, Mr. Duah discussed with Amanor the possibility of him coming down to Ghana to buy gold.
Due to Amanor's assurance that he would assist Mr Duah to get some gold to buy, the businessman arrived in the country on February 1 and checked into the Relax Hotel at Dzorwulu in Accra.
Amanor who indicated that he was not savvy in such a business offered to get him Jeffery, aka Kay, to assist him.
On 2nd February, Amanor together with Jeffery who was armed with a pistol, Peter Kwame Gyasi, Kwasi Tawiah, Bismark Ampofo and two Nigerians now at large, went to the hotel under the pretext of transacting the gold business.
Before then, Amanor and Ampofo together with the Nigerians had arranged with Corporal Quansah, Blejumah, L/Cpl Karim Muntari, Constable Acheampong and a soldier yet to be identified, to come to the hotel.
The policemen and soldier allegedly stormed the hotel room, forcibly breaking the door. While Jeffery pulled a pistol on the complainant, the other accused persons assaulted him to the extent that he bled from the nose.
They were said to have searched the complainant's room and taken two envelopes containing $53,000, 800 Euros and  GH¢2000 from his pocket.
They again ransacked the room and took away a black bag containing two walkman CD players, one digital camera, two bunches of key, and one Standard Chartered Bank book all valued at $4000.
The officers later abandoned the complainant at Tema after pretending to have arrested him for doing fraudulent business.
The businessman then reported the case to the police and the accused persons were arrested.
According to the prosecutor, preliminary investigations have revealed that there were several telephone conversations among Corporal Quansah, L/Cpl Karim Muntari, Constable Acheampong, Jeffery and Peter Gyasi.
By Mary Anane