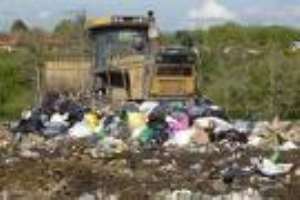 The National Democratic Congress (NDC) MP for Ablekuma Central, Mr Theophilus Tetteh Chaie, has called on the media to help revive the self-help spirit of the people, to make them more responsive to environmental issues, through sustained public education.
He made the call at the end of a clean-up exercise at Sukura-Russia and its environs in Accra at the weekend.
Mr Chaie told the GNA that it was about time people appreciated the need for a healthy environment and help make a positive impact on environmental management.
Mr Chaie, who had organized the clean-up campaign dubbed, "The MP's Programme of Action to Improve Sanitation", said the exercise would be held every forth-night in each of the five electoral areas namely Gbortsui, Lartebiokorshie, Nmenmeete, Mataheko and Abbosey-Okai.
He said the programme was to sensitize the people to be more conscious about their environment and appealed to churches and schools in the area to help spread the message of maintaining environmental cleanliness in the communities.
The MP promised to have regular interaction with the people to discuss issues affecting the area and said "public education vans would soon start going round to educate people on sanitation".
He advised the people in the area to desist from dumping refuse into drains and other unauthorized places, which exposed the residents to a lot of health risks and warned that defaulters would be dealt with when apprehended.
The Ablekuma Sub-Metropolitan Director, Mr Daniel Konney, said there was a limit to the efforts of the Accra Metropolitan Assembly (AMA), adding that, the biggest challenge rested on the people and how they perceived the issue of sanitation within their localities.
He condemned the apathy of the people to communal labour and described it as "Disruptive, with the tendency of killing initiative in society".
Miss Grace Naadu Addico, Assemblywoman for the area said it was about time Ghanaians changed their attitude towards the environment to ensure good sanitation to reduce frequent visits to hospitals.
She commended Zoomlion, a sanitation company and the AMA for providing logistics for the exercise.