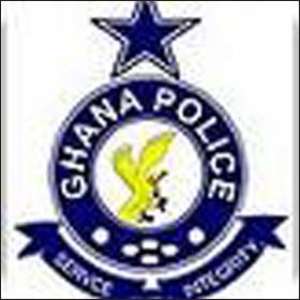 Ghana Police Four policemen including a Deputy Superintendent of Police who were cited for robbery by Kwaku Dua, a Switzerland-based Ghanaian businessman, would be put before court today on three counts of conspiracy, unlawful entry and stealing.
But one of them, Corporal Denis Quansah of the National Police Headquarters, is said to be on the run.
The four policemen, DSP Patrick Kwapong of the Rapid Deployment Unit (RDU), Corporal Denis Quansah, Sgt. John Agyapong and  C/Inspector Thomas Adu, both of the Panthers Unit, were on Tuesday granted a police enquiry bail but were rearrested by the Police CID upon the instructions of the Acting IGP, Mrs. Elizabeth Mills-Robertson.
The four are also currently on interdiction for their alleged involvement in the theft case that took place at a hotel in Dzorwulu on February 2, 2009.
It would be recalled that the four personnel were reported to have gone to the said hotel to arrest Mr. Dua upon a tip-off that the man was engaged in a fraudulent business.
Reports however said Kwaku Dua came to the country to purchase gold through the help of a friend, one Ams Amanor.
Amanor, who indicated that he had no knowledge in such a business, offered to get someone to help Kwaku Dua, and subsequently contacted Atta aka Kay who agreed to assist in the deal.
Kwaku however ended up being robbed of a whopping sum of $53,000.00, €8,000.00 and a digital camera among other personal effects.
The Acting IGP, in a statement issued on Tuesday to announce the interdiction of the four, also cautioned personnel to refrain from misconducts and criminal acts or face the law.
By Rocklyn Antonio