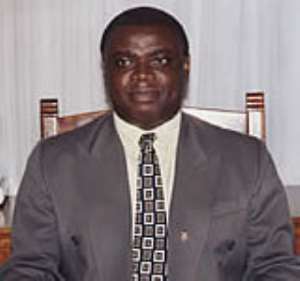 Lawyers of the Managing Director of NIB, Mr. Daniel Charles Gyimah say he is being held unjustifiably by the BNI.
They say although Mr. Gyimah was granted bail by the court, personnel of the Bureau of National Investigations have refused to release him.
Speaking to Joy FM's Super Morning Show host, Kojo Oppong-Nkrumah, one of the lawyers, Mr. Bright Okyere Agyekum said the accused was capable of fulfilling the bail conditions but was denied his freedom by the BNI.
The NIB boss was arrested and charged with causing financial loss to the state to the tune of $60 million.
He was granted a GH¢500, 000 bail with four sureties.
One of the four sureties was supposed to have collateral of the value of the bail sum.
The lawyers say the accused had property that met the value and could therefore satisfy the bail bond to warrant his release.
Presidential spokesperson, Mahama Ayarigah, however, said the continuing detention of Mr. Gyimah was due to the failure of the suspect and his lawyers to satisfy the bail.
He said although the suspect was granted bail, evidence of the execution of the bail bond was needed to finalise the bail and secure his release.
Mr. Ayarigah decried the imputing of political motives to the arrest, emphasizing the need to have faith in the judiciary.
He said questions should be raised as to whether the facts of the case warrants that Mr. Gyimah comes before court to answer charges and not which political leanings he has.
Meanwhile a group calling itself 'Free Dan Gyimah Movement' has vowed to work for the release of Mr. Gyimah.
A leading member of the group, Mr. Egbert Faibille told Oppong-Nkrumah the detention Mr. Gyimah was a clear breach of the Constitution.
He rejected suggestions that there were political motives attached to the arrest and detention of the suspect.
According to him, in the absence of a substantive Attorney-General, the police or the BNI could not have acted on the case without expressed instructions from the president.
He claimed the NIB boss in the course of duty went after gurus of the NDC who had taken loans from the bank when the party was power and had failed to pay.
The actions of Mr. Gyimah led to the sale of the properties of some individuals in the NDC who could not repay the loans, Mr. Faibille noted.
That, he said, made the suspect a target and a nemesis by influential persons in the NDC.
Mr. Gyimah is also believed to have caused the revocation of decision by the University for Development Studies to confer a doctorate degree on former president Rawlings.
As Council Chairman of the University he is alleged to have orchestrated a last minute reversal of the university's decision.
Story by Malik Abass Daabu