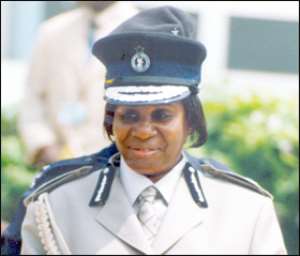 Mills-Robertson - Acting IGP Pastors Robert Larbie and Jonathan Hammond Laryea, who allegedly gave a lady in their neighbourhood a sound thrashing till she sustained injuries on her lips and bled from her nose, have appeared in court.
Larbie, 39, who also doubles as a carpenter, was put before an Accra circuit court for causing harm, while Laryea, 27, was charged for assault in a court presided over by Mrs. Ivy Heward-Mills.
Pastor Larbie pleaded guilty with an explanation.
He told the court that the woman provoked him into doing what he did because she had been bathing at a spot where he and his congregation had been worshiping, and would not heed any warning to stop bathing there.
He said he and his friend were forced to beat the victim after she teased them.
Laryea, on the other hand, pleaded not guilty to the offence and the Judge adjourned the case to February 16, 2009.
Presenting the facts of the case, the prosecuting officer, Chief Inspector A. Adika, told the court that the accused persons, both residents of Dansoman, a suburb of Accra, are pastors trained at the Foursquare Gospel Church.
He said the complainant who also resides in the same area, on December 26 2008 had a confrontation with the accused persons while on her way to have her bath and happened to pass through where they worshipped.
According to him, Larbie pummeled the complainant during the argument. He added that on January 10 when the complainant saw an old lady carrying items and offered to help her, the second accused person, Laryea, without any provocation attacked her mercilessly till she got wounded on the lower lip and also bled from her nose in addition to sustaining other minor injuries.
In the process, the complainant lost her Nokia mobile phone valued at GH¢150 and GH¢100 cash. He said a report was made to the police and the accused persons were arrested.
The prosecutor said the two were arraigned after police investigations.
By Fidelia Achama