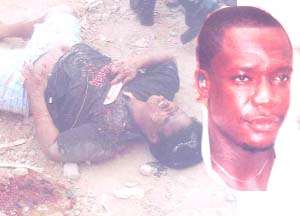 Helen Boye, Inset: Ebenezer Acquaye EBENEZER NII Acquaye Quaye, 27, who was alleged to have stabbed his 32-year old lover, Helen Larley Boye, a seamstress and hairdresser to death last Sunday is wanted by the Dansoman Police.
The general public is thus urged to provide information leading to his arrest.
Acquaye Quaye, unemployed, who could not been traced  after the incident is believed to be in hiding at James Town, Santa Maria, Chorkor, Tema or Achimota.
It was reported in the Wednesday February 4, 2009 edition of the DAILY GUID E that the deceased, Miss Boye was stabbed in the chest, close to her heart, and sustained another injury in her left palm and had a deep cut on her face.
The kitchen knife which was used to carry out the gruesome murder was seen in her right hand so it would seem as if she had committed suicide.
The Police, on the other hand, stated that it was a case of homicide with the prime suspect being Ebenezer Nii Acquaye Quaye, who has since gone into hiding.
Miss Boye's lifeless body, according to the Dansoman Divisional Police Commander, Superintendent Alex Yartey Tawiah, was seen lying prostrate in a pool of blood at about 5:40 am in the middle of the road, 10 meters away from her father's house where she lived with her lover.
A preliminary investigation into the death of the young lady by the police established a lead into the commission of the crime.
The dead body, Superintendent Tawiah indicated, has since been deposited at the Korle-Bu Teaching Hospital mortuary pending autopsy.
Superintendent Tawiah further told DAILY GUIDE that five days before the incident there was a quarrel between the deceased and her unemployed lover over his vacation from the house on February 2, 2009.
Nii Quaye was said to have also pleaded for a two-week grace period, which the deceased refused and insisted he left the house.
By Nathaniel Y.Yankson