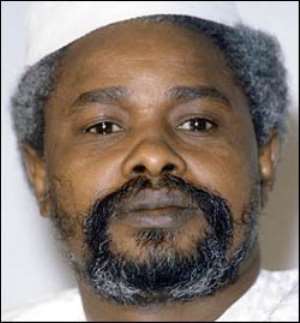 Hissene Habre Senegal's President Abdoulaye Wade said Tuesday his government may hand former Chad dictator Hissene Habre over to the African Union because he is so angry with the lack of international support to bring Habre to trial.
"Finally the story of Hissene Habre is going to turn against Senegal. Some accuse us of not wanting to bring him to trial, but they understand that we have not been given the means to judge him," Wade told AFP on the sidelines of an African Union summit.
Habre was toppled from power in 1990 and fled to Senegal after an eight-year reign marked by widespread allegations of rights abuses.
An official truth commission report in 1992 accused Habre's regime of committing some 40,000 political murders.
The African Union asked Senegal to prosecute Habre on war crimes and crimes against humanity charges, but no progress has been made.
Wade said that if resources are not provided for his country to stage the trial, then he could send Habre either back to Chad or hand him over the head of the African Union.
"There is a precedent," Wade said, noting that former Liberian leader Charles Taylor was sent to Nigeria when its former president Olusegun Obasanjo was leading the continental bloc.
Taylor is now awaiting a judgement before the global war crimes court in The Hague.
Wade strongly denied that he was trying to bury the case.
"I agreed to do this firstly because I know that no other country would agree... and because I am against impunity," he said.