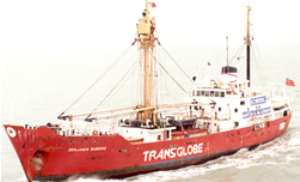 The man who walked free in the aftermath of the MV Benjamin cocaine scandal in 2006 is in the grips of the Bureau of National Investigations (BNI).
Alhaji Moro Mohammed was one of five persons, linked with the MV Benjamin cocaine saga, who were discharged by the Accra Regional Tribunal in November 22, 2006 for lack of prosecution on the part of the Attorney-General.
The Director of the BNI Yaw Donkor who confirmed the arrest said Alhaji Moro was invited on Tuesday to assist with investigations into a matter whose details he would not disclose.
Mr Donkor told Joy FM's Akwasi Sarpong it would be too early to tell if the arrest was related to the MV Benjamin scandal.
Other sources have however told Joy News, Alhaji Moro had voluntarily walked to the offices of the BNI apparently to pay a courtesy call on the BNI director when he was informed that he was wanted to respond to certain questions.
The sources also indicated that Alhaji Moro was taken ill shortly after his arrest but was soon returned to the headquarters of the security agency.
A band of BNI officers are said to have stormed the house of Alhaji Moro where they took certain personal items, including a passport belonging to him.
The Accra Regional Tribunal in November 2006 discharged the five persons linked with the scandal, for lack of prosecution on the part of the Attorney-General.

The five were Kwabena Acheampong, Kwabena Amaning (alias Tagor), Alhaji Issah Abass, Victor Kisseh, alias Yaw Billah, and Alhaji Moro Mohammed.
They were each cleared of all charges levelled against them but fresh charges were immediately preferred against Tagor and Abass.
The Attorney General's Department, led by the then Chief State Attorney Gertrude Aikins, entered a plea of nolle prosequi – a decision not to proceed with case – which is said to have compelled the court to free the suspects.
The facts as presented by the State Attorney held that on April 26, 2006, the five persons were alleged to have conspired to use the MV Benjamin vessel to cart 77 parcels of cocaine to Tema.
One Sheriff who escaped arrest is alleged to have charted the vessel to convey the 77 parcels of coke weighing 2,340 kilogrammes.
According to the prosecution, the MV Benjamin received the cocaine from another vessel and headed towards Ghana.
Sheriff is also alleged to have asked some fishermen to offload the 77 parcels from the ship when it entered the Tema breakwaters to Kpone at dawn.
The drugs were then taken to an unknown destination.
Story by Fiifi Koomson