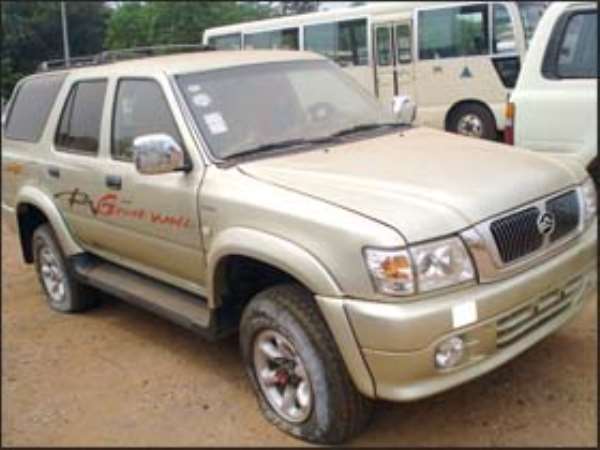 One of the returned cars THE POLICE on Monday returned two private cars belonging to a leading member of the New Patriotic Party (NPP) after investigations proved that the vehicles were wrongfully confiscated and kept at the Korle-Bu Police Station for a week.
The cars were towed in the full glare of the public from the private residence of Samuel Obiri, Director of Operations for the NPP 2008 Campaign after some supporters of the National Democratic Congress (NDC) reported to the station that they were government vehicles.
The police swoop, reminiscent of the revolutionary heady days, was greeted with condemnation, with explanation that the state was not at war with its citizens.
Two other cars belonging to Mr. Obiri were also reported to be government vehicles and the Police were thus made to investigate their registration details and rightful ownership.
When DAILY GUIDE visited the Korle Bu Police Station on Monday, the tyres of Mr. Obiri's vehicles had been deflated and the front bumper broken.
One of the registration number plates had also been removed and had still not been found as at press time.
"Though I pleaded with the Police Commander that I was outside Accra and that I would provide the documents of the vehicles when I returned, he insisted that since the report came from the NDC he would tow the cars away.
"They ruffled my son and seized the cars away and subjected me to public ridicule as if I had stolen government cars. Now they are ashamed as it has turned out that the cars are mine and not for the government," Mr. Obiri noted.
In an earlier interview with DAILY GUIDE, Police Superintendent Ernest Mwayed of the Korle Bu Police Station explained that he had reports from some people that the NDC Chairman had asked them to report to him that Mr. Obiri was keeping government vehicles so he should go for them.
Supt. Mwayed said the complainants did not provide any shred of evidence but once a report had been lodged to him, he went for the vehicles and kept them at the station.
Since the report was made, the complainants had not returned to the station to provide any evidence or explain the basis on which they claimed that the said vehicles belonged to the government.
By Halifax Ansah-Addo