Calling Time Out For Kwame Okoampa-Ahoofe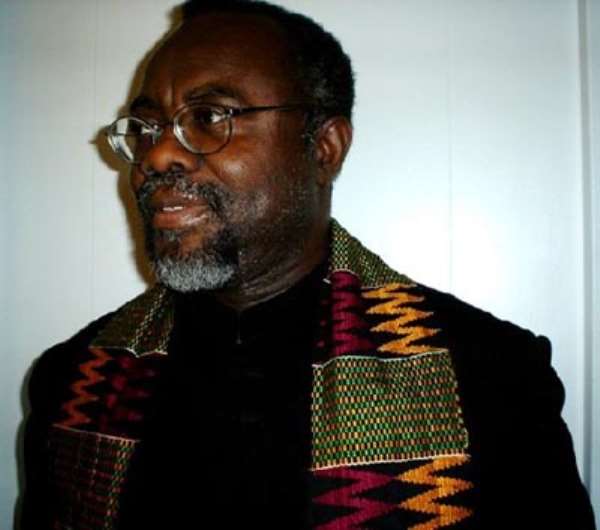 If I teach in a community college that is affiliated to the State University of New York, I would not be lying to Ghanaians and the world repeatedly that the community college is a branch of the university. Not so if I am the so-called English and Journalism Associate Professor who knows very well that the word affiliation means membership, relationship or association. But Mr. Ahoofe (Beauty), who has so many useless, uneducated, hate filled, divisive, non-communication and unhealthy articles littered all the place thinks people do not know who he is.
Normally I do no mind mad dogs, but I have decided to take Ahoofe (Beauty) on because I have come to the conclusion that its time for someone to stand up to this guy and tell him that he needs help. If you write articles that are published and each time 99.8 percent of your readership condemns your hate filled articles that does not even make any meaning to "My Agotagota" friends in my neighborhood, then you are simply a sick person. This man is far sicker that the Original Adumadze and Kennedy Adumadze combined.
I do not know if he reads the comments on his articles. But if he does and he is a sane person as he claims, he should have known that he does not communicate. Even his sentences are difficult to decipher. This man claims he teaches Journalism and English. Heaven help those that he teaches. Even intellectuals find it difficult to understand the points that he carry across. To tell you the truth even some diehard NPP supporters are claiming quietly that Ahoofe (Beauty) is not helping their cause and are praying quietly that he goes away.
This mental Ahoofe (Beauty) got the nerve and stated in one of his articles that I am delirious. Why should I Ekua not be delirious. Because if I were not hallucinating as Ahoofe (Beauty) claims I would not have realized that this guy is simply anti-Ghana. We all know the history of the Asantes, therefore, we do not need the daily diatribe from Ahoofe. We know that the Asantes were the most warlike tribe that fought and conquered many tribes in Ghana. But Ahoofe Ei, this is the year 2009. We are no longer at war. The Asantes are not at war with anybody. So start taking your medication for you to come back to your senses.
We all know that the NPP was paying you huge sums of money to spew that garbage that you write. Trust me the NDC would uncover the monies paid into your bank account for you to spew that venom. I have some evidence which I will provide to the NDC people in due course so stay tuned.
If I say Ahoofe (Beauty) is a mental patient I mean it. This is not something I am making up because he knows he is. During the run-up to the elections, this man found time to expound the virtues of Kufour, the NPP and Akufo-Addo every single opportunity that he got. But when the NPP lost the elections Ahoofe (Beauty) who claims to relate the Asantehene (I am not making this up. He said this in one of his articles), has suddenly made Kufour the punching bag. Was it Kufour who was running for election or Akufo-Addo. Indeed Akufo-Addo lost because he placed his faith in empty headed people like you Ahoofe (Beauty).
I do not hold a Ph.D. I do not teach in a community college, but I tell you if I even have my masters, I would not teach in a community college as an associate professor. And I would do a better job comm unicating to my students and readers. In this internet age does Ahoofe (Beauty) not care that some of this students may Google his name and read the stupid articles he write. Doesn't it occur to him that some of his students may read the insulting comments to his articles.
You insulted me for calling you out that if you want to talk about the so-called "Volta Virus" you also have to talk about the "Asante Virus." But you claimed you do not know about the existence of any "Asante Virus." Why should you not be because you live in NY with a very myopic view about events in Ghana and only believes in issues that trump things up for the NPP.
Mr. Ahoofe (Beauty), you are not helping yourself at all. Even teenagers who read your articles make a mockery of you. You are simply out of touch and Akufo-Addo would need you to stop that garbage that does not help his cause. Haven't you realized that the other sycophants who became praise singers all year round leading to the defeat of Akufo-Addo are all cooling it somewhere? You have given people the chance to insult a Ph.D holder like you. This is because of your miscommunication. If you look at the topics of your articles, you hardly talk about the topics but veer into unnecessary areas that does not help readers to determine what your conclusions are. If you ever insult me again, I will hit back. I am a Fante woman and therefore not afraid to fight back.
In conclusion, I would urge you Mr. Ahoofe, to take a deep breath and see the harm that you have caused your party and the NPP in general. Writing is about communicating. Writing is about helping people to understand the issues of the day. You may be opinionated which is what I do, but if your readers does not understand what you write then you're writing metaphysics.