Campaign against plastic waste in the offing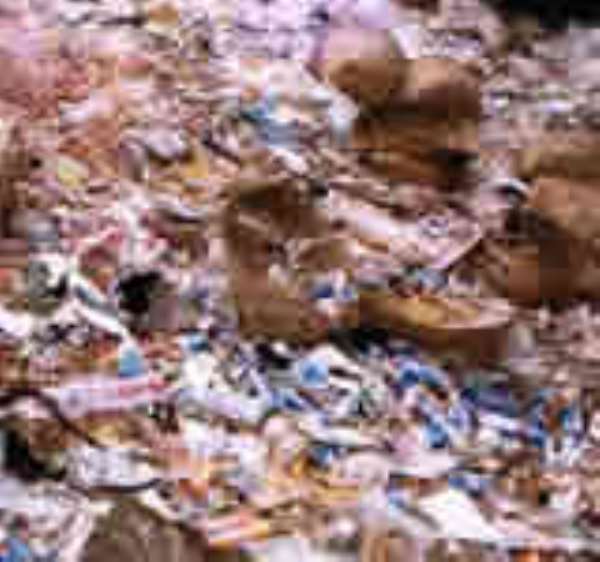 A sanitation crisis fuelled by an ever increasing number of water sachet producers, the use of disposal plastic bags and poor waste management continue to raise concerns from environmentalists in the country.
In July 2004, the country declared a recycling war on plastic waste in a project that was to cost some $1.5 million but it appears the impact has not been very much felt as in both urban and rural areas, drains are choked with abandoned plastic waste, thereby, providing breeding grounds for disease causing vectors like mosquitoes.
There is no doubt a growing preference for plastics in the packaging of food and water and as a result there is an amazing glut of cheap and disposable plastic bags on the market.
Plastic sachet producers have agreed to the payment of a levy to help sanitation manage plastic waste and although some gains have been made in the management of empty sachets originally used for the packaging of water, through collection and recycling, there are issues to be addressed.
Many people agree that there is an enormous sanitation challenge that must' be addressed in a comprehensive manner; however, the difficulty has always been how to effectively address that challenge.
Time and again, the strategy has been to improve the collection and disposal of plastic packaging materials and bags and institution of recycling processes.
But waste management companies and recycling companies have been saddled with huge volumes of plastic waste that they have to deal with on a daily basis. That no doubt calls for measures to encourage more recycling and also the reduction in the volume of plastic used and the waste generated as a result.
As part of the measures to address these sanitation woes, the French Embassy in collaboration with Trashy Bags, a non governmental organisation (NGO) and with the support of Tigo, Ministry of Tourism, and other organisations and foreign embassies in the country, are set to initiate a campaign to help address the challenge.
The campaign, which is set to begin this month, is called 'Fight the plastic plague'. It is in two phases and has two main objectives; to reduce the volumes of plastic waste daily by encouraging the use of reusable bags; to encourage the collection and recycling of plastic waste.
While there is the potential to produce reusable bags from plastic waste, the market for' such products in Ghana is rather abysmal. Thus, although some organisations such as Trashy Bags produces bags from reclaimed plastic drinking water and ice cream sachets, these products are still alien to the Ghanaian market.
"The principle is to have days reserved for the sensitisation on the negative impact of plastic bags on the environment and also discuss how well plastic waste can be managed," notes Mr Courbet Philippe of the French Embassy.
He explained further that the first phase of the campaign would target five supermarkets; two Maxmart supermarkets, Koala and Shoprite, Game and also the Maxmart super- market in Tema. .
At these supermarkets, customers would be encouraged to purchase re-usable bags produced by Trashy Bags and sold at subsidised prices.
The Managing Director of Trashy Bags, Mr Stuart Gold also explained that the durability of the bags produced from reclaimed plastics ensures that they could be used over a long period thereby reducing the dependence on disposal plastic bags.
He noted that in Accra alone, waste produced from plastic packaging was projected to have reached 60 tonnes per day in 2008 and that added up to 22,000 tonnes of plastic waste in a year.
"This figure has risen in just 10 years by about 70 per cent. Despite this rise, it is estimated that only two per cent of plastic is recycled. You may ask what happens to the remaining 98 per cent?" Mr Gold asked.
He stated that whatever plastic waste not disposed of by the local authorities ends up on the streets of Accra and other urban areas and thereby choking drains and causing frequent flooding and increasing the risk of disease.
"We are demonstrating that trash can still be useful long after it has outlived its original purpose," he states.
Indeed, 'Fight the plastic plague' comes as a worthy initiative that hopes to heighten awareness that the disturbing sights of stacks of plastic waste do not represent a hopeless case and waste can indeed be wealth.
A daunting challenge, but Courbet Philippe is optimistic; "The French Embassy is committing itself to taking up this challenge with the Ghanaian institutions, the private partners, NGOs and of course the Ghanaians on the harmful effects of plastic waste and we believe that together we can contribute to addressing the plastic plague".
Story by Daily Graphic