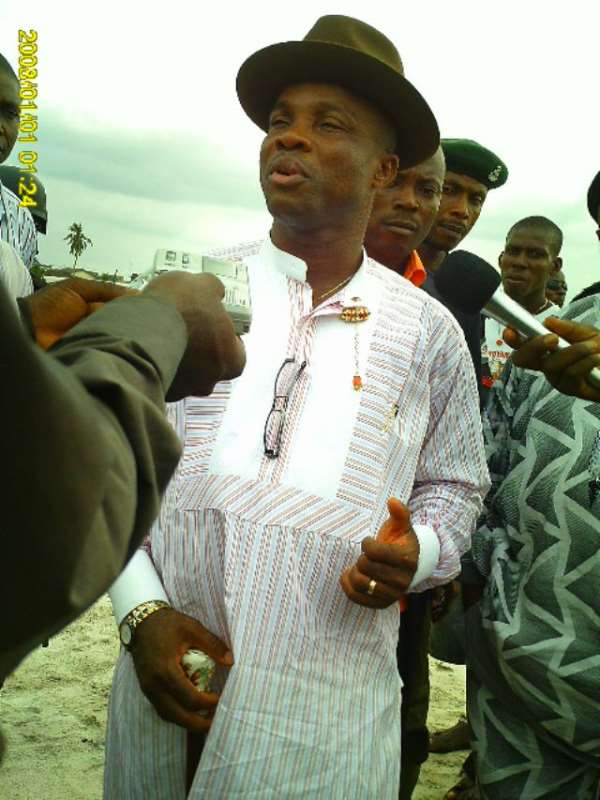 Hon. Commissioner for Urban Development Rivers State, Bar. Osimah Gina
History deals with different men in different ways: good or bad. And the works of men today are left for the good justice called posterity. Some good men are labeled bad men by traducers while sycophants label many bad men good men. And the former is the fate of the Rivers State Commissioner for the Ministry of Urban and Rural Development, Barrister Osimah Gina. Today, people call him 'Bulldozer' just because of the on-going Demolition Exercise his Ministry is undertaking in the Port Harcourt City?
I have always argued that if men were left with the ways they think or would want to think, this glebe would have become more cumbersome to live in. Even that there are laws governing mankind, some people still have the features of that of beasts. I think it is the beasts-features of some men is what Osima-led Ministry is trying to tame in the city once known for its Garden nature.
How could a man in his right thinking build structures on the waterways, sanitation lanes and even encroach into government-owned lands? Suffice it that they are doing that for money. But what is the use of money if one doesn't enjoy a good environment and health for the good short period man has to live on the earth? I think man is gluttonous and doesn't care what effect of what he does is to the next person.
When my papa's building was demolished in the city recently, like many others protesting, he wanted to tow that line. But been enlightened on the 'good' work Osima is doing in Rivers State, I had to suggest to my papa to tow the line of supporting what Osima is doing inlure of the opposite. I asked him a question that has he ever thought that if such ministry like the Urban Development was not instituted men could have built houses and erect structures on the major roads we use. It is because men are building on the waterways, sanitation lanes and on the pedestrians ways that the city now experiences huge floods whenever it rained, because the ways of the waters are being closed by rapacious men we have in the city.
Having understood the points I was making, Papa relented. And today, he is a crusader of what Osima is doing: that other landlords like him should see reason why he is supporting Osima. I also think that like my papa, it is important for the people of Rivers State to see what Osima is doing as a project orchestrated by the laws of the state to better the Master Plan of the state and was not directed to hoodwink or mislead anybody. I think the Master Plan had been there even before the Governor Chibuike Amaechi-led government of Rivers State assumed office.
Barrister Osima Gina, to my understanding, represents peace and love, and is an epitome of a civilized mind. I don't think that any building in the city is being demolished by his Ministry, but those located in the city against the Master Plan. We have to understand that there is no how our country would be like the UK and USA., in the area of development, if we don't adjust some anomalies of the past for the betterment of our tomorrow. And that development is what I think Osima is fighting for, for our own tomorrow's benefits. Though some people might suffer it for sometime, just like my own Papa, but tomorrow is what every person should be looking at.
The "Bulldozer" is not a bad one. Let me narrate here that some investigations I carried out on this man revealed to me that he is not even a member of the ruling Peoples Democratic Party (PDP) in the state, but a member of the Action Congress in the state led by the young and vibrant Prince Tonye TJT Princewill who is also a member of the Presidential Niger Delta Technical Committee. Osima came to be a Commissioner by the connivance of the Unity Government between the two parties in the state.
I learnt also that Osima has been in the forefront the fight to restore peace and tranquility in the state. On 22nd August 2008, he publicly paid a courtesy visit to the palace of the Amayanabo of Kalabari Kingdom, King (Prof.) TJT Princewill and donated some media equipment for the enhancement of development and communication in the state, having found out that the palace was wanting on that area. I also gathered that he has been doing the same to various kings, villages and towns in the state.
On 25 November, he also made a similar visit to the King with the son of the King, Tonye Princewill, to duly inform the King of the Peace Rally that would be hosted in the Kalabari Kingdom on the 20 December 2008, of which the King and his cabinet were elated but asked that the do not want any blood shed of any of their wards be he or she a good child or a bad child. All that they wanted was peace.
In Osima's words, he said, His Majesty, I came with this great men and women of honour to thank and encourage you for your steadfastness in maintenance of peace within your kingdom and to urge you not to relent on this drive because that is the only means through which meaningful development will reach your people and subjects. We are here also in consideration of your love for peace, development and emancipation of our people to solicit for your support and encouragement to sponsor a peace rally by December 2008 in line with the vision of the amiable and peaceful Governor of Rivers State, Rt. Hon. Rotimi Chibuike Amaechi. He has initiated and kick started similar peace rally at the
State Level some weeks ago and we, as peaceful people, want to start ours at the Local Level. We intend doing this if you permit us not that there is any unrest or restiveness in your kingdom but to prove to the entire world that your Kingdom is the haven of peace in the State.
We know that you are a busy King and it is not our intention to take much of your time but permit me to state that the Amaechi' s administration is totally out not only to better the lives of the people of Rivers State but to take the State to greater height as a commercial corridor of this great nation where every one will live in peace and unity. Those of us from Action Congress shares in this vision and we have resolved to keep the Governor on his toes so that he is not distracted or derailed in any form in this regard. I wish to state that no matter the perception in some quarters this administration is not ready to discriminate against any section or persons or groups or political party as it sees every sons and daughters of Rivers State no matter their religious inclination, tribal differences but as equal partners and stakeholders in the project call Rivers State. The development and progress of this state is paramount. I therefore call on His Majesty and all sons and daughters of the Kalabari Kingdom to continue to build on the existing peace support and encourage the Governor as our Leader, Prince Tonye Princewill is doing so that the State will grow and our future and that of our kids will be secured and protected.
How can, then, any man in his right thinking mind say or assume that Osima Gina's works in the state are not worth recommendation. Today, Port Harcourt is having a new look in term of gaps from roads to buildings. We don't think of accidents that are related to buildings close to the Highways? Osima Gina is doing well for now. I will also revolt with my pen anytime he deviated, but I don't pray that he should deviate.
Odimegwu Onwumere is the Founder of Poet Against Child Abuse (PACA), Oyigbo, Rivers State. 08032552855. [email protected]

Hon. Commissioner for Urban Development Rivers State, Bar. Osimah Gina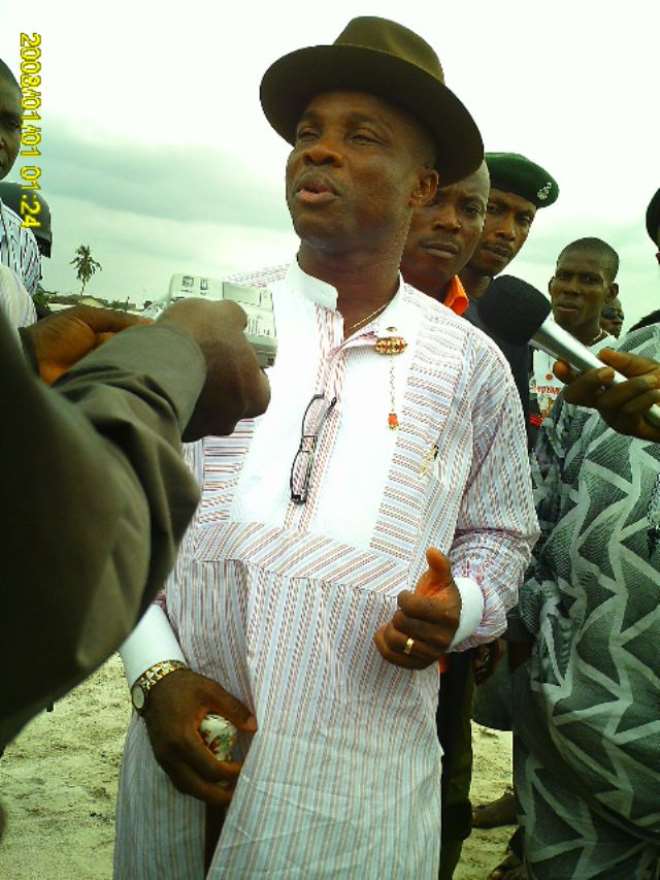 Hon. Commissioner for Urban Development Rivers State, Bar. Osimah Gina