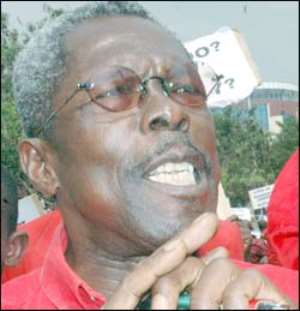 The former deputy Minister of Defence and one-time Head of Research for the opposition National Democratic Congress (NDC), Dr. Tony Aidoo, on Thursday evening stunned Metro TV viewers when he fled from a debate he claimed he had hitherto prepared for.
Pulling off the microphone pinned to his breast pocket and arrogantly walking out of the studio, the NDC guru said he would debate no other person than a policy maker, implying that the man brought in to debate him was no match for him.
This was a day after a similar embarrassment was visited on the station by the NDC communications consultant, Kobby Acheampong, when he reduced an intellectual morning show programme into a verbal sex trade shop.
And if Wednesday's Good Morning Ghana programme which was disrupted midway, had a still birth from the NDC end, Thursday's Good Evening Ghana  could best be described as having been aborted prematurely by a representative of the same party.
In the Thursday scenario, Dr. Aidoo, the bravado politician entangled himself in yet another controversy and subsequently attracted a backlash by walking out of the popular Metro TV political/intellectual programme, less than a minute after it took off, saying he would not debate Kwaku Kwarteng, Government Spokesperson on Finance and the Economy.
He alleged that he had been assured that he was going to engage Dr. Kofi Konadu Apraku, Campaign Director of the New Patriotic Party (NPP) in the Metro TV studio.
Glaringly embarrassed at the development, both Kwarteng and Paul Adom-Otchere, host of the programme, had no option than to apologise to viewers and call off the programme.
Paul told DAILY GUIDE that he was disappointed by the turn of events.
Dr. Aidoo first attempted to push the blame on the host, alleging that Paul had pulled a fast one on him by not bringing in Dr. Apraku to debate him.
Before rudely walking out of the show, the former minister caused more stir by screaming at Kwarteng and the host, in spite of appeals to him to let reason prevail.
Even though he initially tried to justify why he would have to flee by blaming the host, his subsequent explanations indicated he had personal bones to pick with the government spokesperson, with whom he had met on several platforms.
He explained that he had had occasion to face Kwarteng in a radio debate a couple of times and got the impression that the government spokesman was sent by the ruling NPP to destroy the programme.
"You know I was the host of a radio show on Joy FM called 'Crossfire', and this boy was brought in and he filibustered the show. For six weeks he destroyed the show and that was why I specifically said I wanted a policy maker. I can't debate him," he said.
Kwarteng on his part maintained that Dr. Aidoo had no right to insist on facing a policy maker since when it came to issues of economics Tony Aidoo was a fly before him.
Visibly agitated by that response, Dr. Aidoo yelled: "You are the big man. I say you are the big man so stay and do your debate".
In the Kobby Acheampong case, it would be recalled that the studio became a venue of wild exchanges of sex-related vulgarisms as he and Ms. Frances Assiam went into a free-for-all verbal battle.
Acheampong was the first to accuse Ms. Assiam of being a prostitute and a paedophile.
Pushed to the wall, Frances retorted that Kobby too was a homosexual who had been engaging in anal sex with no less a personality than former President Jerry John Rawlings. The programme had to be taken off air to save its integrity.
Political observers are beginning to think that, going by the events of Wednesday and Thursday, the opposition NDC may not be in the best of shapes for any discourse ahead of the December 7 general elections.
Tony Aidoo has virtually become a 'brand' of a sort, especially when it comes to generating controversy and making unsubstantiated allegations.
He however hibernates when he is badly needed to prove his allegations.
For instance, he was quoted recently as raising questions about government's claim of quadrupling the size of the economy in the last eight years, and alleged that the economy is being boosted by narcotics trade.
But Dr. Arthur Kobina Kennedy, Chairman of the NPP Communications Committee said Dr. Aidoo was confusing real growth with nominal growth.
Dr. Kennedy seriously contested the claims and charged the NDC guru to substantiate his claims, which he failed to do.
The maverick, it was reported, accused his party of being irresponsible because the NPP was doing better in the eyes of Ghanaians than the NDC.  
"Our political party the NDC is so irresponsible, behaving like the landlord who opens the door wide and shows all his gold for the (thief) to come and steal and then after that he bolt the door and stand there and cry," he said on the then Alhaji and Alhaji Programme on Radio Gold.
By Bennett Akuaku