Reconstruction works begins on Akatsi-Aflao highway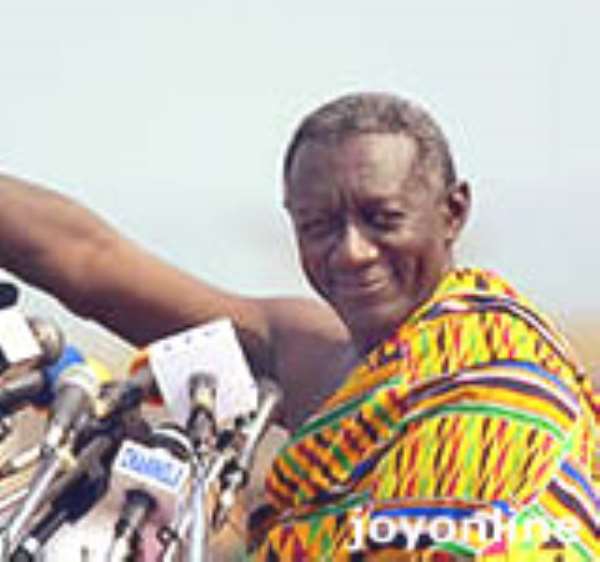 President John Agyekum Kufuor on Friday set off reconstruction works on the 58.8 kilometre Akatsi-Aflao section of the Tema-Aflao Highway at an official ceremony in Aflao.
The single carriage highway is estimated at $62 million and would take 245 months to complete.
The project is being funded by the Ghana Government and the African Development Bank (ADB).
When completed the entire stretch of the international Highway from Tema through Sogakope to Aflao would have asphalt concrete surface.
Chinese contractors, Messrs China Geo Engineering Corporation is undertaking the job, which also includes an additional seven-kilometre bypass between Akatsi and Abor.
Breaking the ground for the project, President Kufuor said when completed, the road would improve trade between Ghana and her neighbours and reduce travel time between Accra and Aflao by about 20 per cent.
He urged the Ministry of Transportation and its agencies to exercise effective supervision and monitoring of the project to ensure value for money.
President Kufuor called for care on the roads to reduce motor traffic accidents to the barest minimum during the political campaigns, the Christmas season and beyond.
President Kufuor appealed for peaceful elections.
Dr. Richard Anane, Minister of Transportation, described the Accra-Aflao Highway as among the three most important national routes on the Trans West African Coastal Highway and the Abidjan-Lagos corridor.
He said as one of the three accident prone road corridors in the country, adequate road safety measures had been incorporated in the design to enhance the safety of commuters.
Dr. Anane said, when completed the project would enhance regional trade and integration, including the activities of communities and marketing centres linked to it.
Mr. Kofi Dzamesi, Volta Regional Minister, said the region had benefited from an unprecedented development of roads and schools under the Kufuor Administration.
Speaking at the function, which also coincided with the climax of the Godigbe Festival of the chiefs and people of Aflao, Togbe Amenya Fiti V, Paramount Chief of Aflao expressed gratitude to the government for finally implementing the project, which, he said, had come as a big relief to the people.