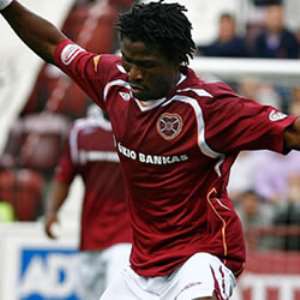 Laryea Kingston says he did not defy his club, Hearts by flying to Accra despite being unfit for Ghana's international friendly against Tunisia.
The Ghana midfielder has explained his decision to travel to Accra after club coach, Lazslo Csaba expressed his frustrations over the player's absence.
According to the player, he flew in because he wanted to show the Ghana Football Association that he is indeed injured.
Despite Csaba being angry, the Hearts midfielder told KickOffGhana.com that he is hopeful it won't cause any tension between himself and the club's Hungarian coach.
"I never came here to play the game but I needed to show proof of my injury to the Ghana team," he said.
"It is unfortunate that this has been made to look as though I defied club orders because I have great respect for the coach and club and will not do any such thing."
Kingston will be in Edinburgh on Thursday and will hold clear the air talks with Csaba in a bid to explain matters.
He is hoping to be fit for the side in two weeks time after an injury that has kep him out of action for three weeks.