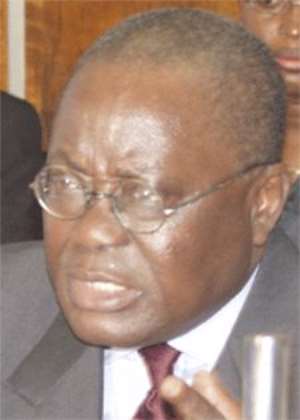 New Patriotic Party flag bearer, Nana Addo-Dankwa Akufo-Addo, says the country is on the verge of industrial transformation with the discovery of oil.
He said the Western Region was going to spearhead that transformation, and called on Ghanaians to brace themselves up to enjoy the benefits.
He was speaking to workers of the Ghana Ports and Harbours Authority (GPHA) at the Takoradi Port as part of his campaign tour of the Western Region.
He said the solid foundation laid by the Kufuor Administration coupled with the oil find had placed the country on the verge of greater opportunities, which demanded that the country as a whole prepared to derive the maximum benefits.
He added that despite the opportunities involved, Ghanaians, especially those at the country's entry ports, must also be alert and prepare to help in that direction.
Nana Akufo-Addo said when the NPP assumed office in 2001, it focused on the improvement and expansion of the facilities at the port to ensure that services at the ports were enhanced to meet internationally accepted standards.
"My visit was to acquaint myself with the challenges at the port to enable me to appreciate and know the challenges at first hand so that my administration would add to the splendid work that had been done," he said.
He called on the workers not to relent in their efforts in ensuring that the country derived maximum benefits from the great investment made at the ports, adding that the NPP government was still committed to its promise of creating a better Ghana and improving the facilities at the port to position it as one of the best destinations in the sub-region.
The Director of the Takoradi Port, Mr Nestor P. Galley, welcomed Nana Akufo-Addo and his team to the port.
Story by Moses Dotsey Aklorbortu.