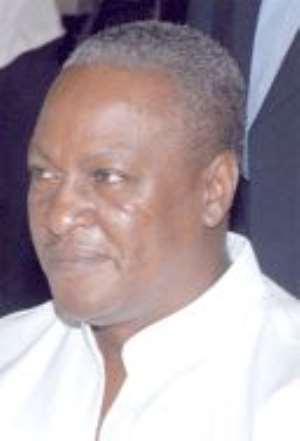 The National Democratic Congress (NDC) took its campaign to the University of Ghana with a call on the students to return the party to power for the judicious use of the Ghana Education Trust Fund (GETFund).
Addressing hundreds of party supporters at the university campus over the weekend, the vice-presidential candidate of the NDC, Mr John Mahama, told the students that the current administration had failed to use the GETFund for its intended purpose, thus accounting for the difficulty in addressing the numerous problems facing the tertiary institutions in the country.
The function which was organised by the Tertiary Education Institution Network (TEIN), a tertiary wing of the NDC at the university, formed part of activities by the university authorities for the various presidential candidates to take turns to sell their campaign messages to the students.
Buttressing his point, Mr Mahama stated that the New Patriotic Party (NPP) government had misappropriated the GETFund by using 15 per cent of it to fund the National Youth Employment Programme (NYEP).
"Under an NDC government we would ensure that the creation of the GETFund which the NPP opposed while in opposition is used for its intended purpose", he said.
He added that, unlike the NPP, an NDC regime would treat graduate unemployment in Ghana as a national emergency issue with a view to curbing the problem.
Mr Mahama stated that the NDC would move the country forward in the right direction as opposed to the NPP's slogan which clearly did not state in which direction it would lead the country.
The vice-presidential hopeful described the recent inauguration of the Jubilee House as a misplaced priority noting that the previous NDC government could have built two presidential mansions but it rather invested in the development of infrastructure such as hospitals.
He said for instance the Upper West Region had no decent hospital while the Upper East, Eastern and Northern regional hospitals were in a "state of decay".
On the affordable housing project he criticised the NPP government for failing to complete a single unit of the houses for habitation in eight years and said under Kwame Nkrumah, state houses were developed; under Acheampong there were low cost houses, while under the Rawlings regime SSNIT houses were constructed. He questioned what the NPP had achieved under its housing policy.
On his entourage were Ms Hannah Tetteh, Communications Director of the NDC; Mr Haruna Iddrisu, Member of Parliament for Tamale South; Fiifi Kwettey, NDC Propaganda Secretary; Mr Kofi Wayo, Founder of the United Renaissance Party, and Squadron Leader Glenn Sowu, the Ayawaso West Wuogon Constituency Chairman of the NDC, all of who had earlier taken turns to address the supporters.