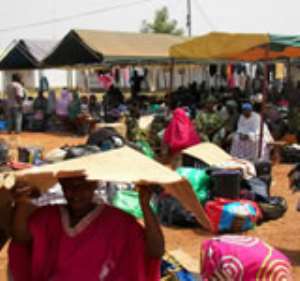 For the first time in several years, this year's pilgrimage to Mecca would be well organised devoid of difficulties and problems that had characterised the pilgrimage in the past.
In addition to arrangements to ensure flights from Accra to Mecca leave on schedule, measures have been instituted to ensure provision of good sanitary conditions.
Briefing journalists in Accra on Monday, Mr Yaw Kwakwa, Deputy Managing Director of Ghana Airports Company limited(GACL), said to ensure smooth operations, pilgrims would be flown to the Holy city by Egypt Air, and the first flight was expected to take off on Wednesday, November 19.
He said seven flights would convey about 2,300 pilgrims to Mecca within five days of the first flight, and to ensure the comfort of pilgrims, the airline would provide two meals on each flight.
Mr Kwakwa said for the first time, a manifest had been made available to enable pilgrims report at the departure hall on well informed bases.
He said the pilgrims would first congregate at Kawokudi park in Accra, 10 hours before departure, from where they would be transported to the Hajj Village near Aviance at Kotoka International Airport, for pre-departure formalities after which they would leave on their respective flights.
Mr Kwakwa advised relatives of pilgrims not to follow them to the airport, to avoid congestion at the village, since they would be barred from entry.
He advised pilgrims not to send prohibitive items along because they would be seized.
Alhaji Usumanu Kadri English, Interim Hajj Management Committee (IHMC) Member in-charge of Operations, told journalists that measures instituted to ensure problem free pilgrimage were new and unique in the history of pilgrimage in the country.
He noted that pilgrims would not go through the difficulties they had to endure in the past.
In the past most pilgrims were stranded in Accra because of failed flights, resulting in loss of money property and even deaths due to harsh conditions.
This new arrangement is being implemented by the establishment of the Hajj Operations Committee made up of the IHMC, GACL, Ghana Civil Aviation Authority, Ghana Police Service, Ghana Immigration Service, Ghana Customs Excise and Preventive Service, Egypt Air, Ghana Air Force and other stakeholders.