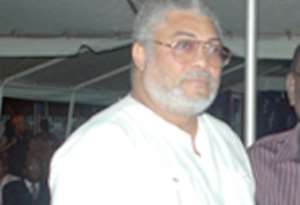 Former President Jerry Rawlings, as if confessing under a hex, has admitted that he was the reason for the brutal murder of General Odartey-Wellington, a former Army Commander.
Mr. Rawlings further warned that Nana Addo Dankwa Akufo-Addo, flag-bearer of the New Patriotic Party (NPP), is committing the same offence for which the late Army Chief was ghastly murdered during the June 4, 1979 military insurrection.
The former President, in the bizarre confession captured on tape, said General Odartey-Wellington, whose son Felix was detained for calling Rawlings a conman, was killed because he was spreading reports at the military barracks that he, Rawlings, had credited 'yo ke gari' for breakfast.
He said though the allegation was true, the subject annoyed the junior ranks in the military because they were beneficiaries of the credited 'yo ke gari' and thus took advantage of the 1979 uprising to spray several bullets into the Army Chief.
Sounding bitter, Mr. Rawlings said he had cause to believe that Nana Akufo-Addo is currently using the 'yo ke gari' subject to ridicule him.
"One of the Generals who got badly mauled down; they sprayed him with bullets and he stopped; he was called Odartey-Wellington because he also at that time, after the 15th May mutiny when we were arrested, was going down the Unit and sort of messing up my name. One of the allegations he used was that I was a useless officer who could not even afford a meal; and that I was doing so and so.
"Meanwhile, the soldiers he was talking to came from those Units and they knew what happened. He was invoking and provoking hatred against himself with that kind of story. No wonder when the country exploded on June 4th, he was one person who died terribly even though he was one of the fine ones among that corrupt lot," Rawlings stated at his Ridge residence during an interaction with a group of students who had visited him from two universities in Nigeria.  
Jerry Rawlings admitted that he truly credited 'yo ke gari' for breakfast, and further disclosed the circumstances under which he stole food, meant for Ghana's President, from a kitchen at the State House.
He said though it was true he actually bought the said breakfast on credit, the food was not meant for him alone and that he credited it for a number of young military officers who had gone on a dawn keep-fit training session with him.
He noted that poverty did not compel him to credit the food, but he found it uncomfortable to carry money on him when going for a keep-fit exercise.
"I went with the soldiers to train that morning in my track suit and those days, we had coins and paper money; you are going to sweat with coins in your track suit and with paper money that would get wet.
"I guess if I had been so foolish to carry those things when I was going for training and they had gotten wet, and the coins had inconvenienced me, I wouldn't be insulted the way I am being insulted with that event. But the point is I had the food for the boys.
"I was a young officer, a flying officer and are they trying to tell me that I cannot afford a simple little plate of 'yo ke gari' for my personal self?" Rawlings queried.
Rebel soldiers loyal to Rawlings killed the late General Odartey at the Nima Police Station in Accra during the military uprising in 1979.
His son, Felix Odartey-Wellington, was in 2000 arrested by Jerry Rawlings' goons for describing the former president as a conman while speaking on a GTV breakfast show after the NDC founder had wept on a political platform, begging for votes prior to the December 7, 2000 polls.
Felix had indicated that Rawlings was only shedding tears in order to cajole the people to vote for the NDC at that time.
Felix, who is now in Canada was immediately whisked to the Bureau of National Investigations (BNI) and stripped almost naked for the police top brass headed by then IGP, Peter Nanfuri.
On the issue of stealing food that was meant for a Presidential dinning table, Rawlings said his mother, Madam Agbovi, used to work at the State House during the Supreme Military Council (SMC) era, and he used that opportunity to steal food that had been prepared for the then Head of State, General Kutu Acheampong.
"I one day went to the State House around lunch time or about the time they were preparing snacks (and they used to prepare beautiful snacks); I picked a complete tray, dumped it into the car and drove away to the camp and said 'boys, come and eat'.
"The food was meant for the government and the Head of State and his Supreme Military Council members. I remember my mother was very angry and was shouting at me to stop. Why don't they insult me with that one too?" Rawlings charged.
By Halifax Ansah-Addo