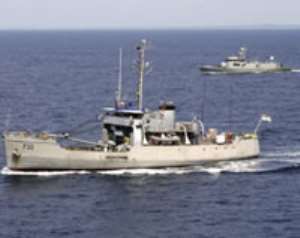 Rear Admiral Arthur Riby Nuno, Chief of Naval Staff on Friday said efficiency of the Ghana Navy at sea was more essential to the nation now due to the oil find.
He said any insecurity at sea could derail the prevailing peace and stability in the country.
Rear Admiral Nuno made the observation when reviewing an administrative inspection parade mounted by eight officers and 168 men at the Western Naval Command at Sekondi.
Administrative inspections afford an opportunity to assess the state of affairs in the various commands.
He commended the performance and enthusiasm of the contingent and said it was a reflection of the navy's determination to rise up to it's responsibilities in spite of it's numerous constrains.
Rear Admiral Nuno said the fleet was recently boosted with the donation of three MK4 boats by the United States Government and noted that it would enhance their operations.
He announced that Government was in contact with the Korean and Chinese Governments to acquire new navy vessels to enhance its operations.
Rear Admiral Nuno said the navy was undertaking intensive training programmes for the personnel to enable it face challenges ahead.
He said recruitment into the navy was delayed due to acute accommodation problems and would begin next year.
Rear Admiral Nuno said measures had been instituted to enable young sailors draw family lodging allowances to reduce effects of poor accommodation for personnel.
He said a Senior Officers' Convention as part of preparation towards emerging challenges in the navy would be held soon and similar conventions would be held for junior officers as well as rating to shape the future of the Ghana Navy.
Rear Admiral Nuno urged the personnel to continue to show loyalty to the nation and remained neutral during Election 2008.
He commended them for their splendid performance and urged them to forge ahead with the same fortitude and resolve.
Source: GNA