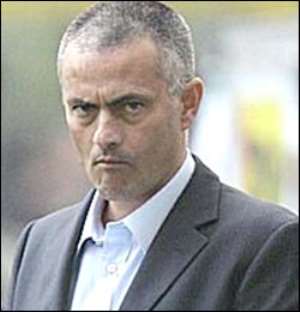 MANCHESTER CITY will offer Jose Mourinho an astonishing £15million a year to take over as boss.  City's billionaire Arab owners have made Mourinho their first choice to replace Mark Hughes.
And SunSport can reveal that third parties have already taken soundings about the move and have received a positive response.
The Sun reported on Monday how Hughes is on the brink of being sacked.
But discussions within the City hierarchy about bringing in Mourinho began FIVE weeks ago.
The Portuguese coach has led Inter to the top of Serie A but he is unhappy with certain aspects of the Italian game.
Mourinho regards media hostility towards him as disrespectful and has been shocked by the lack of passion from the fans.
He has made no secret of his desire to manage again in the Premier League and recently said he would do so after his stint with Inter.
The termination agreement Mourinho signed on leaving Chelsea banned him from managing another club in England for a calendar year.
But he received the final compensation installment on September 21, leaving him free to return here.
However, it is highly unlikely Mourinho will consider leaving Inter until the end of the season.
That means owners Abu Dhabi United Group must decide if they can afford to wait seven months to get their man.
Hughes received a flimsy vote of confidence from club chairman Khaldoon Al-Mubarak on Monday.
In a statement the chairman claimed he had the 'highest regard' for Hughes but did not make any guarantee about his future.  The Sun