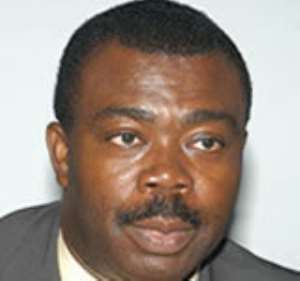 The Minister of Information and National Orientation, Mr. Stephen Asamoah Boateng, says his ministry is in talks with the Attorney General's Department to ensure the banning of radio stations which operate without "delay mechanism" during live broadcasts.
He indicated that the delay mechanism would allow radio presenters to edit and help curb the problems of verbal abuses by callers to radio programmes and promote peace.
The Minister was responding to appeals by some staff of the Adansi South District Assembly to his ministry to ban phone-in-segments on local radio stations in the name of peace during election. Mr Asamoah Boateng was on a tour of parts of the Adansi South and North districts.
He gave the assurance that the government was committed to reducing poverty in the country and cited the School Feeding Programme and the Free Maternal Health Care as examples of government's effort to eradicate poverty.
He advised all and sundry to be hardworking and patriotic enough to promote peace in the country especially during this year's election.
Mr Asamoah Boateng said the government considered the security of the country a number one priority and that it would not do anything to compromise its stance.
The acting president of Adansi Traditional Area, Nana Sarfo Agyemang III, lauded the government for its numerous developmental projects especially in the Adansi District but said there was much to be done in the areas of education and road constructing.
He said that although government had established a community Health Nursing School at Fomena, the school lacks accommodation for both the tutors and the students, thus affecting enrolment in the schools.
Contributing, Nana Adu Ampofi-Dwaah II, Kontihene of Adansi Bodwesango, appealed to the government to complete the remaining 40-kilometre Adwekwaso-Gwaso road in the Asante Akyem North District.
He recalled that the government promised seven years ago to construct the 48-km road as part of its National Road Rehabilitation Work but had since constructed only eight kilometres.