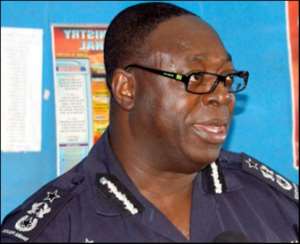 THE GHANA Police Service has announced that it would beef up border security in the run up to the December elections, to ward off infiltrators who would come into the country to disrupt the December polls.
One thousand three hundred and thirty-nine flash points that have been identified nationwide would also be given maximum security attention to forestall violence during the polls.
The Director General of Police Operations, DCOP Patrick E. Timbilla, who disclosed this at a crunch meeting with personnel of the security services and the media in Tamale as part of efforts to equip them for the elections, reiterated the need for members to adhere to the directives of the presiding officers who would oversee the electoral process.
He charged his men to apply the Criminal Code Act 29, reminding voters that the security would not intimidate anybody who abides by the directives of the Electoral Commission (EC) and warned voters to immediately leave the polling stations after casting their votes that day.
He tasked his men to be tough in managing the security situation in the region but remain neutral in the discharge of their duties and underscored the need for all of them to be punctual.
Mr. Timbillah warned against security personnel taking meals from other sources, saying it was in avoidance of such instances that the service had made arrangements to cater for their meals during the period.
The aftermath of declaration of results, according to him, needed to be monitored well as emotions of the vanquished and victors could create uproar and urged his boys to be on the alert.
Ghana, he noted, had become the beacon of hope in the conduction of peaceful elections for the rest of Africa and said the police service was determined to maintain peace, appealing to the media to avoid sensational reportage. 
Northern Regional Director of the EC, Mr. Bruce Ayisi said the security details at the polling stations on voting day are not expected to meddle in the voting processes except on specific instructions from the presiding officers.
He noted that the delay in arrival of security personnel at the various centers in previous elections had delayed electoral processes and urged them to be proactive this time around.
From Stephen Zoure, Tamale