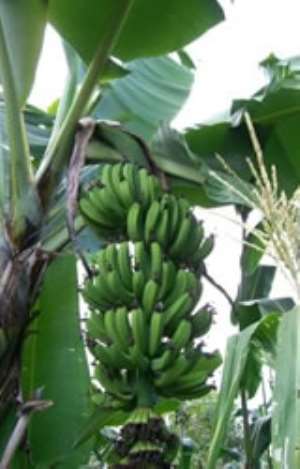 Dr. Gobind Nankani, former Vice President for Africa at the World Bank (WB), on Monday said the nation's over dependence on imported food products was proof of a failed agricultural development policy.
"Ghana needs to adopt pragmatic agricultural policy reforms, develop the political will, provide guarantees to attract financial institutions to focus investment in the sector," Dr. Nankani stated at the first in a series of public think tanks lectures on the agricultural sector.
The lecture dubbed; "Eminent Citizens' Policy Panel" was on the topic, "The Challenge of Agriculture in Ghana: What is to be done." It was organized by the Institute for Democratic Governance (IDEG) and attended by economists, agriculturists, students, researchers and media practitioners.
Dr Nankani outlined a 10-point agenda for agricultural revolution in the country - increase agricultural base; build residual capacity of the nation; sustainable policy to reduce the yield gap; create land markets; involve local government and agricultural policy formation.
Others are resource researcher institutions; revamp producer-based organizations; improve marketing of products; create assess to farm lands and the political will to enforce prudent agricultural policy.
Dr Nanakani, who is also President of the Global Development Network, argues that utilizing even the most basic form of integrated performance measurement systems will assist greatly in strengthening the planning, decision-making and control capabilities of agricultural sector.
He noted that Africa was on the move and was on the verge of breaking out of the long economic stagnation of the 1970s and 1980s.
"The last 10 years have seen renewed growth and improved governance across a number of African states, setting the stage for taking advantage of opportunities that are emerging from a rapidly changing world economy."
In a related development the National Democratic Congress (NDC) in its Manifesto "For A Better Ghana 2008", has outlined an eight-point intervention to provide the basis for Strategy for Accelerated Modernisation of the Agricultural sector.
The interventions include provision of easier and faster access to marketing centres for agricultural produce; scale-up credit support facilities for agricultural producers; provide some subsidy for the agricultural sector for the procurement of improved seeds; grade breeders and stocks pesticides and fertilizers.
The rest are scale-up upstream processing and value addition; expand irrigation infrastructure; support land tenure arrangements that yield win-win outcomes for both tenants and land holders; structure and intensify relationship between farmers, farmer-based organisations and extension service providers and promote small-holder productivity in transition to large scale production.
The ruling New Patriotic Party (NPP) also in its 2008 manifesto, Moving Ghana Forward, Building a Modern Ghana, seeks to increase incomes of farmers and improve living standards especially in rural areas; and establish national strategic buffer stocks for major staples and crops.
Other interventions are application of modern technologies improve post-harvest management and coordination by promoting improved storage infrastructure at the farm, community and urban markets levels.
The rest are to deliver effective extension services and inputs to farmers; improve road network and transportation facilities from farms to storage centres and markets; enhance land management and increase funding for research and development of new products and markets.
The People's National Convention's (PNC) agricultural direction captured in its manifesto seeks to create Farmer's Market Centres as the equivalent of part of establishing growth poles.
It is also to encourage increased production of a number of produce and provide selective subsidies.