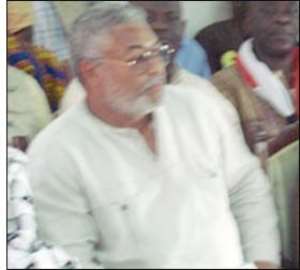 In a little over three weeks from today, Ghanaians would vote for a group of their compatriots who share similar ideas about how they intend running the affairs of this country.
Surprisingly, even before crossing the bridge, the leadership of the National Democratic Congress (NDC) inspired by the party's founder has begun crying foul, citing rigged polls.
The party sounds as though the results are out already. Perhaps they have undertaken a certain survey which other parties are not privy to, and whose results point at a New Patriotic Party (NPP) victory.
It is amazing, the ferocity with which the NDC is bandying this NPP rigging mantra all over the place. With Ghana getting closer to the date the leadership appears to be in frenzy.
Last week the surrogate presidential candidate of the party, Mr. Jerry John Rawlings told curious people who cared to listen to him in Kumasi not to think that the December 7 polls would be as peaceful as the recent US'.
Only the former president and his close allies know what he means when he predicts doom on December 7.
He could have put in a mechanism to create chaos and mayhem on December 7 or after that date, so that the polls could be discredited.
No wonder his spouse fired correspondences to foreign missions on the subject to prepare the minds of the international community about what is up their sleeves.
The whole rigging apprehension appears to be following a certain rehearsed pattern.
No sooner had he sounded the warning signals to Ghanaians about an impending Armageddon than the Asawase MP of the NDC, Hon. Muntaka Mubarak go on air on a similar mission.
He served notice that he would reject the voters' register of the constituency on December 7 because according to him, the NPP is organizing a voter transfer from other places to this electoral area.
The transfer he stated is intended to be part of a scheme to rig the election. We are surprised at such warped logic that because there is going to be a transfer of voters from one constituency to another, a rigging plan is about to unfolded.
Since transfer of one's place of voting to another is not outlawed we wonder what the Asawase MP is driving at.
The bottom-line is that Rawlings and his NDC have planned to plunge Ghana into chaos using various strategies like crying wolf when there is none, among others.
But the good news is that the security services have adequate intelligence about the dastardly schemes and are ready to contain them in the most professional manner.
Above all, majority of Ghanaians prefer peace to war and would rather ignore the calls for them to join hands with the devious characters whose stock-in-trade is inciting people for civil disobedience.
A few persons might consider this subject over-flogged but we plead to disagree, because the man responsible for spreading fear among Ghanaians has not stopped doing so, having learnt and forgotten nothing.
There cannot be a price tag on the security of a nation and so we would continue to expose Mr. Rawlings and his aides about their devilish plans, no matter the quantity of ink we must apply on paper towards that end.
From tagging government officials as thieves and drug pushers with no evidence to warning of a hallucinatory catastrophe if their party loses the polls they have continued to try out an assortment of plans. We have confidence in the Electoral Commission and the security agencies to discharge their statutory functions under the prevailing circumstances.
Ghana will emerge victorious and not Rawlings and his allies.