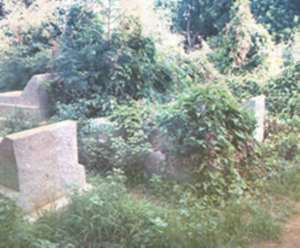 The chiefs and people of Osu have described as highly provocative and sacrilegious the desecration of the burial place of Osu Royals at the Ringway Estates with the erection of a mast by Zain Ghana Limited, a mobile telecommunications company.
Briefing newsmen at the Royal Mausoleum where all prominent Osu chiefs and other leaders have been buried for over 200 years, Asafoatse Nii Akapeh II of the Osu Mankralo Stool said the Asafo companies, the youth and elders would "take appropriate action for the trespassers to feel the consequences of this insult to our history and tradition".
Bulldozers have flattened some of the roya1tombs and in their place a giant tower erected to facilitate the work of the telecommunications company.
When contacted, Mr Geir Austin, a consultant to Zain, said the cemetery was given to the company as a lease hold by Nii Ako Nortei, one of the chiefs of Osu.
The Royal Mausoleum, known traditionally as "Amanprobi", has remained a sacred place for the people of Osu and is rarely entered except for the burial of a royal or during Homowo, when Nii Akapeh, as the War Leader, leads the Asafo companies in a militant visit to the ancestral resting place.
Nii Akapeh lamented that at a time when the government said it was doing everything possible to give back some lands to the Ga people, a son of the Ga tradition could dare sell their ancestral heritage for money.
He noted, however, that the action be fiercely resisted.
Zain is embroiled in another tussle with residents of Adabraka over the erection of another mast at a place near the Glenns Night Club.
The company has also been restrained by an Accra High Court from constructing a phone mast at a house at Adjiringano, a suburb of Accra.
The order took effect from Friday, October 17, 2008.
The court gave the order following an application for an order of interim injunction to restrain the company from constructing the phone mast at No.14 Manor Valley Road which was filed on behalf of some residents of Adjiringano by Mr Kojo Graham, the Executive Director of the Centre for Human Rights and Civil Liberties (CHUCIL), an NGO.
According to the residents, checks from regulatory bodies had proved that the company was putting up the mast without the requisite approval from the Environmental Protection Agency (EPA), the Tema Municipal Assembly (TMA), the Ghana Atomic Energy Commission, the Ghana Civil Aviation Authority (GCAA), among other regulatory bodies.