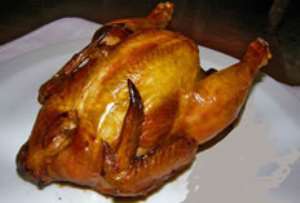 The desire of a 25-year-old ex-convict, Yaw Boateng, for a meal of chicken has landed him in the grips of the law. He told the Sunyani Magistrate's Court 'B' presided over by Mr Albert Zoogah that he attempted to steal a cock to prepare a meal because he could not afford the GH¢6.00 for a fowl.
The court has therefore sentenced Boateng, a farmer, to a fine of GH¢96.00 for attempting to steal the fowl at Nsoatre in the Sunyani West District in the Brong Ahafo Region.
He will go to jail for three months with hard labour if he defaulted on the payment of the fine.
Boateng, who was convicted by the same court for a similar offence early this year, was also ordered to pay a compensation of Gh¢50 to the complainant for strangling the fowl.
Chief Inspector Grace Coffie told the court that the complainant's nephew, who is a witness in the case, saw Boateng with the cock under his armpit and coming out of their kitchen.
She said Boateng dropped the fowl and bolted but upon examination, the fowl was found to be very weak as it had been strangled.
The prosecutor said the witness went to inform the complainant.
She said Boateng was spotted not far from the complainant's kitchen and he tried to bolt again but was arrested and handed over to the police.