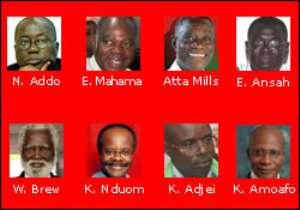 Mr Kofi Quantson, a former National Security Coordinator, has cautioned stakeholders in the coming election to tackle all "simmering tensions" that could affect the integrity of the December 07 election.
He said the Electoral Commission of Ghana (EC), for example, should ensure that adherence to election procedures by all are scrupulous, while the security agencies must be guided by the rules and regulations and not by emotions.
Mr Quantson was delivering a paper on "Fostering Peace and Security at the National and Local Level" at a workshop in Ho to prepare parliamentary candidates in some 30 constituencies in the country for debates.
The debates scheduled from between November 16 to December 01 would be organized by Ghana Centre for Democratic Development (CDD-Ghana) with support from USAID and Fredrich Nuaman Foundation of Germany.
Mr Quantson said "there are politicians whose whole survival depends on the outcome of the election and would try everything possible, fair and foul to win".
"That is why deterrence must be strong and the regulations applied scrupulously and infractions punished promptly," Mr Quantson said.
He said he was unhappy that the media tended to be economical about facts of some clashes between supporters of opposing parties and that it was better "naming to shame" perpetrators of crimes rather than hiding them out of cowardice.
He said objectives aimed at ensuring national security must synchronize with the national interest to ensure durable peace in the country.
Mr Quantson said anybody or institution doing anything that could go against the national interest was undermining national security.
That is why infractions of the election regulations that could endanger peace are against national interest and for that matter national security.
Mr Harrison Belle, Programme Officer of the CDD-Ghana, said the objectives of the debate were to help the electorate make informed choices, provide a common platform for candidates and the electorate to interact, help candidates focus on issues relevant to the needs of the constituencies and also make the needs of People Living with Disabilities (PLDs) a platform issue.
He said criteria for selecting the constituencies include intensity of contest and volatility of voter behaviour, regional representation, constituencies keenly contested in the previous elections and those with large concentration of persons with disabilities.
Dr Bashir Koray, a lawyer at the Attorney-General's Department speaking on Mainstreaming Disability in Ghana, appealed to the media to fiercely advocate for the rights of the disabled in all areas of life.
Mr Victor Brobbey, Governance and Legal Policy Officer of the CDD-Ghana who gave an overview of "Political and Economic Governance in Ghana," suggested that a second look should be taken at certain aspects of the constitution to improve governance.
He said decoupling the Attorney General's Department from the Ministry of Justice and making District Chief Executives (DCE) more accountable to their people was important.