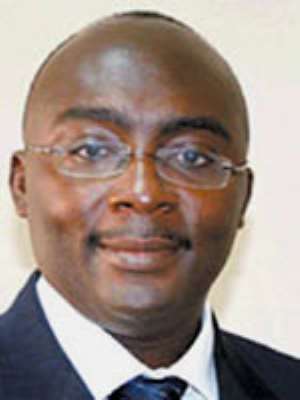 Dr. Mahamadu Bawumia, running mate to New Patriotic Party (NPP) presidential candidate, Nana Addo Dankwa Akufo-Addo, said his vision was to help develop the Upper West, Upper East and Northern Regions (three Northern Regions).
He said this would help bridge the development gap between the Northern and southern parts of Ghana.
Dr. Bawumia was addressing a durbar of chiefs and people of the Zuarungu Tradition area, at the celebration of their annual Ndaakoya festival.
The running Mate said he was in tune with Nana Akufo Addo's vision to give serious consideration for the implementation of a special comprehensive development programme for the three northern regions.
Dr Bawumia said "I accepted the post of Vice Presidential candidate because of the state of the three northern regions and I would ensure that the wide development gap is bridged."
He observed that poverty has militated against development in the three northern regions and pledged that the canker would be tackled with all seriousness from every angle when the NPP retained power on 7 December.
Dr Bawumia He said the NPP would ensure the implementation of agriculture programmes accelerate development in the regions.
The celebration was aimed at appreciating the ancestors for supporting the people to get bumper harvest and to pacify them for their constant protection.
It was also used to take stock of the people's achievements and to plan for the development of the area.