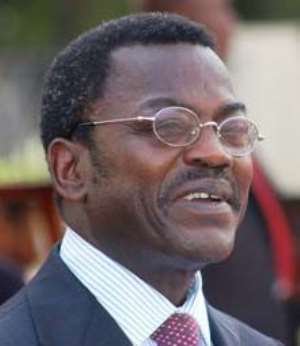 The Governor of the Bank of Ghana, Dr Paul A. Acquah, has been awarded Central Bank Governor of the Year at the prestigious African Banker Awards 2008.
A citation written by Omar Ben Yedder, Chairman of the Organising Committee of the African Banker Awards and Associate Group Publisher IC Publications and read in honour of the Governor at the awards ceremony said: "The Banking system in Ghana is undergoing rapid change and much of this is attributable to Dr Paul Acquah and his technocratic team at the Bank".
The citation said, for instance, Dr. Acquah's team has successfully re-denominated Ghana's currency, issued the country's first Eurobond, sub Sahara's first outside of South Africa, and he has pushed a consolidation of the banking sector in Ghana with some great success.
The independence and competence of the country's banking system, the citation said, has also been key to his policy.
"Dr Acquah has overseen the stabilisation of the sector, based around institutions with a significant capital base. He believes a strong and independent banking system should be at the heart of the government's growth strategy".
It said for the first time in 35 years, the cedi has actually appreciated with respect to the dollar."
Additionally, the citation said, Ghana's economy has been transformed by dint of the efforts of Dr. Paul Acquah, adding that when the Governor took over, six years ago, the country was on the brink of disaster.
Dr Acquah was born in Juabo, a village in the Western Region of Ghana.
A graduate in Economics of the University of Ghana and Yale University, Governor Acquah obtained PhD at the University of Pennsylvania, USA, and joined the IMF as a young economist.
Rising through the ranks, he eventually became deputy director for the Africa Department Bank in 1998.
Source: The Ghanaian Times