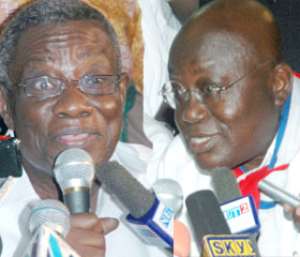 Finally, Ghanaians last Wednesday had the opportunity of witnessing their presidential candidates engage each other in an encounter of wits.
Although the contest did not produce the punches associated with such encounters safe the tackling by the New Patriotic Party's (NPP) candidate of his National Democratic Congress (NDC) counterpart over some economic figures, it added a new feature to our democratic landscape.
Ghanaians were able to see their candidates assembled at the same location with each of them addressing such national issues as employment creation, management of the economy and oil, among others.
We salute the organisers for the feat and ask that the encounter should serve as a lesson to all Ghanaians that convincing somebody to vote for you lies in how you present your case and the approach the politician seeks to address national issues.
Engaging hoodlums to throw stones and other missiles only muddy the waters and nothing else. The four politicians were not speaking at political rallies and so Ghanaians saw them under a different spectrum.
There were dull moments in the encounter but that was not because the organizers did not do their work well. In fact the Institute of Economic Affairs (IEA) should be congratulated for a wonderful job done.
They were so meticulous about ensuring that all went well that some media persons were even denied entry into the hall just because the names on their cards were their employers'.
Each candidate tried to impress Ghanaians about how capable they would be at fixing the challenges of the country.
The approaches varied and the body languages a mixed bag. Whereas some of them were excited and even belled out before they could exhaust their presentations others displayed an inordinate degree of bitterness.
That was Prof John Evans Atta Mills. We were amazed at how he could be so angry with his opponents that this state of mind crept into his presentation.
His anger manifested in his answers as he mostly sought to rubbish the incumbent government's programmes leaving little time for the presentation of his alternatives.
We found the approach at variance with his much-touted "asomdwe hene" refrain. How can one be so angry and expect to be given the nod to lead a country?
He spoke about the polarization of the country as though the anomaly was caused by persons outside the fold of the NDC.
The truth of the matter if Mills does not know is that the polarization of the country is one of the fallouts of Rawlings appearing on our political landscape.
That he is always getting his figures wrong is tearing at his integrity as a gentleman.
Nana Akufo-Addo's intervention when the old Prof. for instance misquoted the actual GDP growth figure as being zero sounded surreal and suggests at something sinister up the sleeves of the NDC.
Mills had a nasty experience with Dr. Arthur Kennedy when he presented wrong figures about the realities of progress under the NPP.
We do not think that this is good for someone who seeks to lead this country.
Nana Akufo-Addo was full of confidence and his performance was so outstanding that some think that he was adequately briefed before the appearance.
He was mostly belled out because he had the misfortune of dealing with two positions namely, defending President Kufuor's legacy and presenting his vision to Ghanaians.
Dr. Paa Kwesi Nduom did not do badly according to some people as did Dr. Edward Mahama both of whom did their best under the circumstances to present their positions.
For us, all that matters is that people should be sincere in whatever they present to the people of Ghana so that informed decisions can be taken on Election Day.
It is not enough for Prof Mills to talk about peace when Nana Konadu Agyeman Rawlings is crying wolf and about a hallucinatory bloodshed.