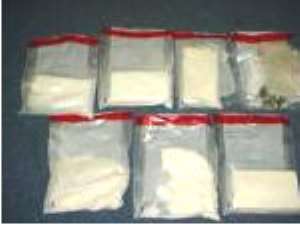 The security agencies at the Aviance cargo handling yard at the Kotoka International Airport last night intercepted 53 cartons containing substances believed to be cocaine.
They were concealed in foodstuffs – cocoyam, yam and fante kenkey - neatly packaged for export to the United Kingdom.
There has not been any arrest yet. Available information indicate that even though the owner of the parcels was available during the examination, he managed to sneak out.
The security is still examining the substances for authentication and to also ascertain the quantity.
More information would be available soon.