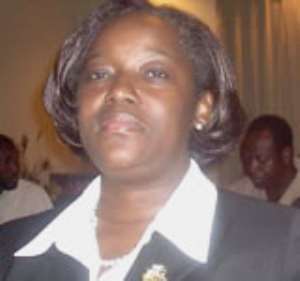 The Acting Commissioner of the Commission on Human Rights and Administrative Justice (CHRAJ, Ms Anna Bossman, says her oufit is ready to investigate corruption allegations against President Kufuor.
The President has been accused by the Weekly Standard newspaper of engaging in an illicit oil business, and misappropriating an amount of $5.5 billion belonging to a company.
According to Ms Anna Bossman, her outfit will conduct preliminary investigation into the allegations, if a formal complaint is made.
Speaking on Joy FM's Super Morning show with Kojo Oppong-Nkrumah on Thursday, she said her outfit has case officers who independently conduct investigations into several allegations, but are not made public.
She however failed to confirm or deny if there was any scheduled officer assigned to this allegation.
On the Judiciary, Ms Bossman commended the Chief Justice, Mrs Georgina Wood, for her efforts to rid the institution of corruption.
She however lamented about the appointing procedures of Judges, especially in the lower courts and hoped that measures would be put in place in that regard.
Ms. Bossman was unequivocal on the need to de-link the Ministry of Justice from the Attorney General's office as a way to ensure independence of the Judiciary.
Asked whether the Judiciary was independent, the Acting Commissioner was not categorical in her response but noted, judges by the constitution have job security, which should prevent them from becoming the pawns of the Executive.
Story by Nathan Gadugah