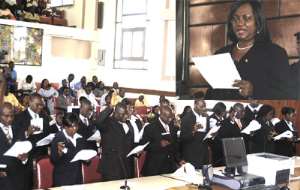 Chief Justice, Justice Georgina Theodora Wood, swearing in new career magistrates   The Chief Justice, Justice Georgina Theodora Wood, has congratulated new career magistrates on their appointments, for deciding to throw in their lot with the Ghanaian judiciary during their swearing in Accra yesterday.
She said it is to their credit that they demonstrate hard work and tenacity, given that the course they applied for and undertake is highly competitive. For that reason they should bear in mind at all times that they are not pressed into service by anyone.
She stated that, 'you voluntarily chose to serve in this office. As you know too well, every profession is governed by ethical rules of conduct. I am quite sure that your able lecturers have thoroughly taken you through the rules that govern the conduct of the men and women who serve on the bench. Members of the bench are expected to be unimpeachable.'
She advised the career magistrates to carry out all their undertakings with due diligence, honesty and humility, showing respect and treating everybody with dignity and utmost courtesy.
Her Ladyship emphasised one worrying complaint some non-professional members of the bench have against lawyers who appear before them is the disrespect exhibited by some member of the learned profession towards them and hopes they will not portray that character.
She said court room etiquette and decorum is also critical to their very survival on the bench, adding that it is important that they extend utmost courtesy to all who appear before them especially, members of the Bar.
She advised that, as evidence of their professionalism, they must prepare adequately before sitting on a given case. Adequate preparation certainly rules out poor performance.
On the part of the judicial service they assure them they will ensure they upgrade their knowledge of the law and professional skills through continuing judicial training programmes.
Eighteen new career magistrates were sworn in consisting of five women and thirteen men each were awarded a certificate.
She asked them to remember all times that her office is always available to provide the necessary intervention when matters seem to be completely out of hand.