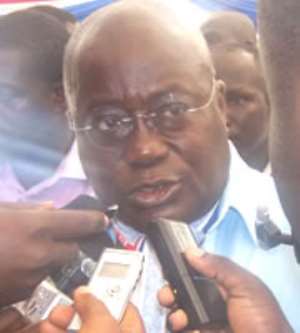 The flag-bearer of the NPP, Nana Akufo-Addo says future of Ghana cannot be gambled in the hands of people who have not shown capacity to solve its problems.
He said the "gravity of the economic crisis that has hit the world" makes it particularly dangerous to vote any party other than the NPP into power.
Speaking at a media briefing at the party's club house in Accra, Nana Addo said the country needs to be reassured that its leaders are capable of ensuring that the effects of the crisis are not felt by citizens.
"We cannot sit down and wait for the crisis to engulf this country", he said.
Touting the prudent economic management of the NPP, Nana Addo said in the face of astronomical world crude oil price increases the fundamentals of the economy remained strong.
That he said cannot be compared to the near collapse of the economy under the NDC following comparatively minimal fuel price increases.
Referring to charges that the government ought to have hedged crude oil, he said "irresponsible hedging has brought the the world's economy to its" knees.
The NPP flag-bearer said the party's manifesto had spelt out clearly the modalities it would adopt to lessen the impact of the economic downturn on Ghanaians.
He stressed the need for the country to lessen its dependence on donors saying the crisis facing donor nations was an indication that they could not be depended on.
Nana Addo praised the Ghana Stock Exchange for its good performance in the money market.
He said his presidency will give the GSE the necessary support to expand and further improve on its performance.
Story by Malik Abass Daabu