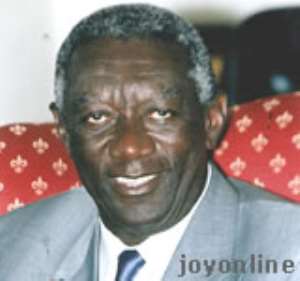 The Press Secretary to President John Agyekum Kufuor, Andrew Awuni, has described as a "blatant, wicked lie" an allegation by the opposition National Democratic Congress that President Kufuor owes over $5billion to some Kuwait oil suppliers and that his personal properties were being appropriated to defray the debt.
As a result, the Presidency and the New Patriotic party on whose ticket President Kufuor was elected president has given the leadership of the NDC 14 days to provide evidence to back up the allegation or unreservedly retract same otherwise "we will advise ourselves."
If the party fails to meet these conditions, there are a number of options available to the presidency, including legal action, he warned.
Briefing the media at the Castle, Osu, yesterday, the Press Secretary said an official statement from the NDC, which was carried by the media, alleged that the President was being dragged to the International Court of Justice in The Hague while his personal possessions were being appropriated to defray a $5 million debt. He is also alleged to own an oil
But Mr Awuni insists President Kufuor neither has any dealings with any Kuwait Oil Suppliers nor does he own any oil company. He said President Kufuor does not owe any Kuwait Oil suppliers or any company anywhere for that matter.
In another exposé Mr Awuni revealed that some mischievous propagandists have produced and are circulating a so-called list of Government officials, their bank account numbers and amounts to their names.
He said the amounts listed in this document are so huge that their sum total will exceed the sum of all banks in Ghana put together.
He said sadly, "these evil plotters are moving from chop bar to chop bar, lorry stations to the military barracks spreading these lies."
He said the motive for spreading these allegations in the military barracks was clearly to provoke ill feeling among the military against the President and the good people of Ghana.
Mr Awuni stressed that the President stands tall among his peers and has endeared himself to the international community through his devotion to duty and integrity to the high office.
"This is evidenced by the several high national and institutional awards that the President has received and continues to receive even as he approaches the twilight of his Presidency.
According to him, the international community is better equipped to find out what President Kufuor is involved in anywhere in the world, than eight paged tabloids in the dark alleys of nowhere.
He said if Kuwait has any problem with President Kufuor America would be the first country to know; yet America recently invited President Kufuor for a state visit and also awarded him.
"The high recognition accorded President Kufuor worldwide is not only unprecedented in our political history but is indeed a fine proof of his hard won reputation which cannot be easily tainted by these baseless lies," he stressed
Mr Awuni noted that it is clear from what is going on that the NDC have decided on deception, falsehood and even violence as a means to political power.
"Recent pronouncements by these politicians clearly shows that they do not intend to play fair, they do not respect the truth and that anything that can give them power is worth using even if reputations have to be destroyed or blood spilled and lives lost.
On a daily basis, they manufacture lies and publish them in their sponsored newspapers or even print them on ordinary sheets of paper for distribution."
He said the NDC are repeating these lies irrespective of how many times they are confronted with the truth.
He noted, for instance, that despite numerous times that the Electoral Commission has said that government has met the Commission's budget request in full, these propagandists insist that government has refused to give the EC their budgetary request.
He said these same propagandists still insist that the National Health Insurance Scheme, the School Feeding Programme, and the free basic education for pupils are not happening, despite overwhelming evidence to the contrary.
Mr Awuni said what Ghanaians want to know from those seeking to lead them is what they did with the opportunities they had and what they will do if they were given yet another opportunity.
He pointed out that the evidence of what these leaders did with their opportunities is available for all and that will be the bottom line for an electoral judgment in December and not the high level deception being employed by the NDC.
"I urge Ghanaians and all in this country to be wary of the pervasive communist antics and to reject them completely," the Press Secretary challenged.