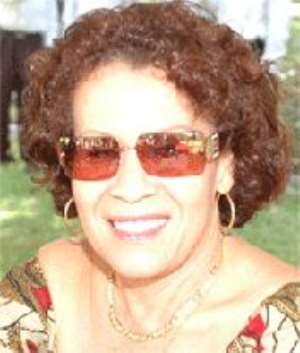 The wife of the presidential aspirant of the Convention People's Party, Mrs Yvonne Nduom, has reaffirmed the commitment of her husband, Dr Paa Kwesi Nduom, to reform the political machinery towards the achievement of gender balance in accordance with the Constitution and international conventions.
She promised that the next government under Dr Nduom would ensure that more women were appointed to positions of governance at the district and regional levels, adding that it had been projected that out of the 10 regions in the country, five regional ministers would be women.
She also said more women would be elected into positions of district chief executives, and wondered why Ghana was practising the blend of European and American constitutional democracies, and could not implement the challenges inherent in them to ensure gender parity.
Mrs Nduom said this when she toured the Ketu-South, Keta and South Tongu constituencies in the Volta Region at the weekend.
She visited Dabala, Adafienu, Keta, Aflao, Blekusu, with whistle stops in some communities along the Atlantic Coast where she addressed pockets of women to sensitise them to appreciate the messages of Dr Paa Kwesi Nduom on the need for change.
Mrs Nduom touched on the plight of market women, whom she said had been neglected over the years which had partially contributed to their low life expectancy in the country.
She said under the government of Dr Nduom, education would be made more accessible and continuous to make Ghanaians more skilful and marketable, adding that facilities would be provided at market places to provide meaningful education to the children of market women.
Mrs Nduom said the new sense of Pan –Africanism would be demonstrated through intra African trade, and that all factories of the state would be revived and nurtured until they were viable, for any form of partnership.
The queen of Adafienu, Mama Ayaba II, commended Mrs Nduom for her efforts and asked her to encourage her husband to be focused in his campaign.
Mrs Nduom also addressed a rally at the Aflao market. She was accompanied by the Ketu South parliamentary aspirant, Mr Pascal Kumaza, and the constituency chairman, Mr Agyei Ashiboe-Mensah.
Story byTim Dzamboe.