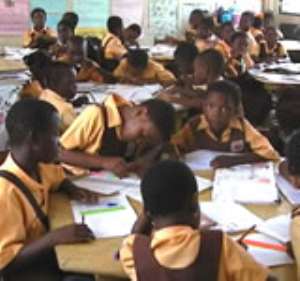 Participants at a workshop on developing standards and indicators for early learning in Ghana, on Monday at Koforidua, demanded the embedment of African imaginative and artistic values in Ghana's educational policy.
They also call for the inclusion of Ghanaian moral principles and creative values in Ghana's educational policy to prevent the youth from imitating foreign values, which were often at variance with African norms and ethical standards.
The participants, including journalists, social workers and educationists also advocated that minors should be exposed to time-honoured artistic norms.
The workshop was organized by the Ministry of Women and Children's Affairs, as part of government's effort to design effective early childhood learning standards to assess children's developmental progress and parental judgment of children's developmental milestones.
Participants proposed that such policy should place emphasis on developing stronger sense of reasoning and logic in minors to enable them to differentiate rational thinking from sentimental ideas to enable children become good scientists.
The National Coordinator of Early Childhood Care and Development at Ministry, Mrs Ruth Addison, told GNA after the workshop that the policy aimed at bridging the gap between elitist schools and public schools to ensure uniformity in standards in the country.
She said it would help the Ministry to strategize and help teachers identify social needs of children by building their capacity to help them detect any impairment that children might be suffering.
In addition, a component of the policy would focus on helping demystify myths about slow-learners and help build their sense of confidence to enable them to perform well instead of labelling them as stupid.
Mr Djabah Mensah, chairman of the Eastern Regional Multi-sectoral Committee for the Protection of the Child, expressed satisfaction about the context of the proposed policy as it emphasized on early childhood development as an important foundation for national development.