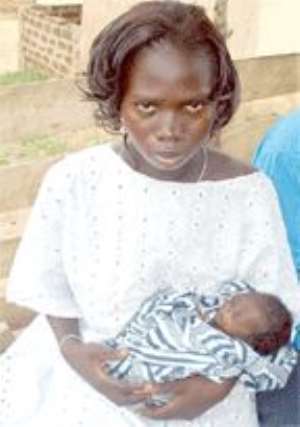 A woman who posed as a Good Samaritan to Ms Abena Amoah, an 18-year-old nursing mother, has absconded with one of Ms Amoah's quadruplets.
but now resident at Odeikrom near Nsawam, met the woman, who gave her name only as Adwoa, the wife of an elder of a Pentecostal church at Tema New Town, at the Nsawam Government Hospital where they were both receiving ante-natal treatment.
The two struck an acquaintance, with Adwoa extending a hand of assistance to Ms Amoah for about a month. She even provided Ms Amoah with a mobile phone on which they had been communicating.
On September 12, 2008, Ms Amoah was delivered of a set of quadruplets (two boys and two girls) with the assistance of a traditional midwife at Kwakyekrom, near Pakro.
After delivery, Ms Amoah was admitted to the hospital for about a week. One of the quadruplets died on the very day of delivery, while another died after one week, leaving her with two kids, a boy and girl.
While Ms Amoah was on admission, Adwoa was visiting her frequently.
On October 6, 2008 the two met again and that time Adwoa offered to shop for her friend.
While going round the market, Adwoa vanished with one of the infants whom she had earlier offered to assist her friend to carry.
Ms Amoah has since lodged a complaint with the Nsawam Police.
Story by Patrick Fynn