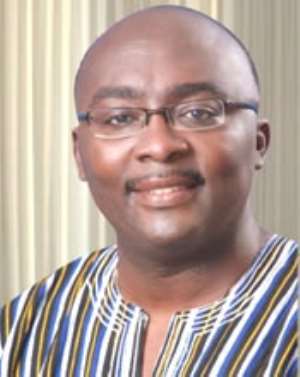 The NPP presidential candidate, Dr. Mahamudu Bawumia seems to have an incredibly strong magnetism that is attracting the people of zongo communities to the ruling party.
A number of Zongo communities which hitherto had unflinching support for the opposition National Democratic Congress (NDC) are gradually falling for the NPP and its consummate economist and financial whiz kid.
For instance, at Akim-Swedro zongo community in the Eastern Region where according to Mr. Yaw Osafo-Maafo, the Member of Parliament (MP) for Akim-Oda, the NPP did not have any support and polled only six votes in the 2000 elections, large crowd of supporters waited patiently late last Thursday night to meet the NPP's new-kid-on-the-block.
Even before the arrival of Dr. Bawumia and his entourage, both the young and old danced to the tune of the ruling party's adopted song of 'Go Go High' by Ghanaian sensational gospel musician, Phillipa Baafi, whilst speaking in Hausa that "this time around even all the young men say they are voting for NPP".
The NPP running mate, who will soon turn 45, also received overwhelming welcome from enthusiastic supporters and sympathizers of the party at Asamankese, Tiakama Nkwanta and Oda.
Dr. Bawumia, who was accompanied by Alhaji Boniface Abubakar-Saddique, the Minister for Water Resources, Works and Housing and Member of Parliament for Salaga; Alhaji Karim Grunsah, the humorous football administrator and founder of King Faisal Football Club; Yoofi Grant of Data Bank; John Boadu, NPP National Youth Organiser among others, was touring the Zongo Communities to spread the good news of Nana Addo DankwaAkufo-Addo.
Setting the stage for the political campaign, Alhaji Karim Grunsah told the teeming supporters that NPP has been the only party which had so far nominated Muslims to partner the flag-bearer which he noted, was a sign of respect for the Ghanaian Muslims.
He therefore called on the Muslim fraternity, especially those in the zongo communities to erase the erroneous impression and propaganda that the NPP does not serve the interests of Muslims, urging them to vote massively for the ruling party as a reciprocal gesture.
Speaking in Hausa Alhaji Boniface Saddique stated that "if you store water for too long in a pot it smells" literally equating the NDC to smelling water which the communities have been keeping in their pots.
Beaming with confidence, the Minister told the people to find a new home in the NPP, the party with vision and the ability to solve the problems of this country, reminding them of their not benefiting from the votes they gave to the NDC all these years.
Hon. Osafo-Maafo, first Finance Minister under the Kufuor-led administration, who has a remarkable economic management records, rushed in to grace the occasion after attending another programme.
He recounted how the Ghanaian economy was ill a pitiable mess when the NPP took over the reins of power.